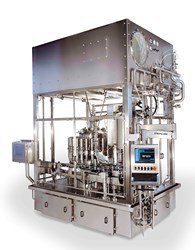 Milwaukee, WI (PRWEB) September 04, 2013
Federal Mfg., powered by Pro Mach, will showcase at Pack Expo, September 23-25 in Las Vegas, a 12-valve capper/filler for entrepreneurial organizations looking for a step up in automation capabilities and a 30-valve filler/capper with ESL option for full-throttle production in established markets. Federal personnel will be highlighting the sanitary and construction features that make these machines virtually indestructible over decades of operation. (Federal Mfg. Booth C-2320)
"Traveling the world and seeing what the competition is offering, I'm struck by Federal's design and engineering philosophy that emphasizes sanitary construction, ruggedness, and simplicity, and by the fact that no one even comes close to exceeding us," said Mike Collins, Federal Sales and Marketing Manager. "At Pack Expo we are going to lift the hood, so to speak, and show visitors the construction details they can rely on for decades of trouble-free sanitary operation from these 3-A Process Certified machines."
The 12-valve machine
The Federal GWSS2/12.4 filler/capper is designed and rated for wash down environments and is certified to the 3-A sanitary standard. This compact 12 filling valve/four capping station unit fills and caps containers ranging in size from 0.2 to 4 liters at a rate of up to 120 units per minute. The GWSS2/12.4 is equipped with a sanitary product infeed valve with positioner and level control package that ensures sanitary handling and exceptional accuracy for low waste. PackML compliant HMI offers a host of integration and operational benefits. Toolless handling parts provide for fast changeovers. The GWSS2/12.4 is an outstanding value for filling and capping free flowing liquids, including drinkable yogurt, juice, and other specialty drinks.
The 30-valve machine
The 30-valve net-weight (non-contact) filler with ESL option has a 10-station pick and place capping turret. This unit can be equipped with hot water sanitizing for juice or drinking yogurt applications or steam sterilization for extended life Ultra-High-Temperature (UHT) processed milk or dairy beverages. This machine features damped load cells with overload protection that significantly reduces or eliminates the effects of vibration and initial fill shock. High-speed analog and digital electronics allow each station to be filled by weight or time. This unit is rated at up to 300 units per minute and handles packaging between 200ml and 2-liters. This filler/capper is certified to the 3-A sanitary standard.
Also at the show will be a waterfall cap sorter rated at 400 38-millimeter screw caps per minute. This compact unit features a 12-inch belt that can be ordered in heights to match the customer's environment. This cap sorter is wash down rated.
For more information about Federal's sanitary, rugged, and long-lived filling and capping solutions, call 855-371-4639 and visit http://www.FederalMfg.com.
About Federal
Durable, reliable, and hygienic designs have been the hallmarks of Federal fillers and cappers since 1946. To meet the strict demands of today's consumer, Federal has developed filling systems that further protect the quality, freshness, and flavor of products without compromising the core machine characteristics customers have come to expect in terms of operations and productivity. http://www.FederalMfg.com.
About Pro Mach
Pro Mach is a leading provider of integrated packaging products and solutions for food, beverage, household goods, pharmaceutical, and other diverse consumer and industrial companies. Through multiple business units and related brands, Pro Mach provides equipment, installation, training, parts, and service in primary and secondary packaging, flexible packaging, end-of-line packaging, material handling, and identification and tracking.
Pro Mach has a diverse customer base, from Fortune 500 companies to smaller, privately-held businesses worldwide, which depend on reliable, flexible, technologically advanced packaging equipment and integrated solution sets. Pro Mach is headquartered near Cincinnati, Ohio with manufacturing facilities and offices throughout the United States and Canada. For more information about Pro Mach visit our website at http://www.ProMachInc.com.