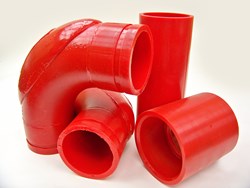 Memphis, TN (PRWEB) September 04, 2013
Bailey-Parks Urethane has developed an innovative, long-lasting polyurethane piping system to replace the metal systems used on trailers that transport fracking sand. Highly customizable, the Sand Viper piping system includes 16 modular components that can be used to build a complete piping system to fit nearly any specifications.
Frac-sand is typically transported via truck using a dry bulk trailer with three hoppers. Sand is extracted from this three-part rig through a system of aluminum pipes that runs along the bottom. Because fracking sand is so abrasive, these metal pipes wear out rather quickly. Made with customized, high-durometer urethane, the Bailey-Parks Sand Viper piping system has been specially designed to stand up to the wear caused by frac-sand and lasts significantly longer than its aluminum counterparts.
This cutting-edge system is Bailey-Parks's latest polyurethane innovation for the oil and gas industry. Urethane has proved an excellent material for manufacturing a number of other critical components involved in fossil-fuel extraction, including hydrocyclones, impact pads, scrapers, sheeting, and wiper blades. Incredibly wear-resistant, urethane lasts significantly longer than aluminum or steel in corrosive conditions like those encountered in the oil, gas, and mining industries.
Visit http://www.baileyparks.com to learn more about the Sand Viper piping system.
About Bailey-Parks Urethane
Bailey-Parks Urethane provides custom urethane solutions for a wide variety of industry applications. Since 1969, the company has designed, engineered, produced and tested thousands of molded polyurethane products used in hundreds of manufacturing processes. With over 600 compounds and 27,000 unique items in its product database, Bailey-Parks is a leading provider of turnkey industrial urethane solutions. With very few exceptions, the company continues to make all of its molds, tooling and custom machines at its original plant in Memphis, Tenn.
###