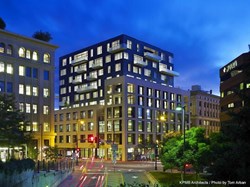 Denver, Colorado (PRWEB) September 04, 2013
Premier luxury apartments in Denver, SugarCube Building, recently added a convenient online rent pay option to their website allowing residents to make convenient payments through the building's website. Managed by Urban Villages, the recognized building quickly made a name for itself as a destination for an elevated standard of living, and now also bringing total online accessibility.
Located in the heart of Lower-Downtown Denver, SugarCube's residence can cultivate the city's rich history, as well as embrace new, urban living. A vision executed by world renowned architect, Bruce Kuwabara, SugarCube has received a number of industry awards for innovative design. With LoDo celebrating its 25th anniversary this year since it was first formed by the Denver City Council as the Lower Downtown Historic District, SugarCube continues to be a landmark for merged decades.
Boasting 37 unique apartments, the building offers residence luxury services and amenities such as an Athletic Club, a concierge, 24-hour security, a Spa, and secure parking. Inclusive services like these are few of the ways these LoDo rentals create a quality apartment experience: critically-acclaimed restaurants line the building, a variety of retail shops call the street home, while transit centers lie two blocks away. A Walk Score of 97 was easily achieved with the diverse options surrounding the luxury Denver apartments.
About The SugarCube Building
Situated in Downtown Denver's Historic District, SugarCube is a premier destination for luxury apartment living. Holding 37 apartments with features like hardwood flooring, environmentally responsible carpeting, solar generators and Italian cabinetry, the building carries only the highest standard of living. Elite services and amenities, a prime location, recognized design, and accommodating features earned the luxury Denver rentals such awards as the University of Denver's "Design of the Year" Award, the Gold Hard Hat Award, Denver Major's Design Award, and Westword's Best Addition to LoDo.