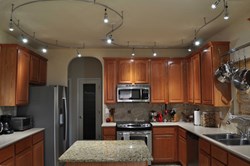 The company's LED track lighting kits offer energy-saving alternatives to halogen spotlight systems.
New York City, New York (PRWEB) September 04, 2013
LED lamp supplier and manufacturer LED Waves has announced a sale on LED track lighting. The latest offer from the company's weekly Waves of Savings promotions, each complete Flex II™ kit is eligible for a 15% discount and free shipping with coupon code WAVES. (The shipping offer applies to addresses within the continental US only; other shipping methods and special orders may be arranged by calling 800-986-0169.) This sale is running through Monday, September 9th, 2013.
The company's low volt LED track and cable lighting systems offer energy-saving alternatives to halogen spotlights. As each LED replacement consumes 85% less electricity and lasts over ten times as long as its traditional analog, owners can see a return on their investment within two years of typical use. (A LED bulb savings calculator is available among the company's educational tools available online.)
Each Flex II™ kit contains ten feet of flexible metallic track, a non-dimming or dimmable LED power supply, mounting hardware, and 12v LED light bulbs and fixtures. A wide range of options, from the color temperature, lumen output, and beam spread of each bulb to the physical installation of the system along a wall or ceiling, provides users with unlimited lighting design opportunities.
The flexible track and LED fixtures are available in three different finishes: satin nickel, antique bronze, and chrome bronze. The track is cuttable and may be reshaped endlessly; and the adjustable spotlight fixtures may be arranged anywhere along the track. Three to seven-light kits are available online; additional fixtures may be ordered separately. (LED Waves recommends that the combined Wattage of the lights should not exceed 70% of the capacity of the system's power supply. All wiring must be performed by a licensed electrician.)
With its contemporary look and extreme versatility, the Flex II™ spotlight system is suitable for the home or for commercial installations including galleries, retail, restaurants and other hospitality settings. LED track lighting kits are as low at $352.95 with free shipping this week, and include the California™ light bulb: an LED MR16 made in the USA exclusively by LED Waves.
LED Waves' dimmable LED track lighting systems are compatible with standard halogen and incandescent dimmers. Speak to a lighting expert over the phone or through the company's new live chat feature (accessible on the bottom right-hand side of each page at LEDWaves.com Monday through Friday, 9am-5pm EST) for technical assistance.