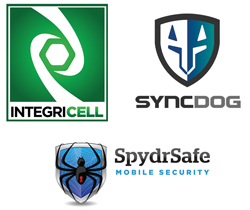 With SyncDog's multi-factor authentication and SpydrSafe's ability to blacklist any app, we are providing unmatched app security without compromising device functionality.
Washington, DC (PRWEB) September 10, 2013
Leading mobile security event correlation provider SyncDog today announced a developer partner agreement with SpydrSafe Mobile Security, a provider of enterprise solutions for uniformed and fine-grained policy control over any mobile application. SyncDog, a division of mobile security consultancy and solutions provider IntegriCell Group, will provide multi-factor user authentication (MFA) while SpydrSafe will set policy rules and control application access to enterprise network environments. The combined solution is ideal for enterprise environments that heavily rely on Common Access Card (CAC) authentication technology such as government, military and financial institutions.
"This solution has a very high degree of authentication and security at the application layer," said SpydrSafe CEO Michael R. Pratt. "With this technology partnership, SyncDog and SpydrSafe have created a mobile security solution that clearly demonstrates that the whole is greater than the sum of its parts."
SpydrSafe's Mobile DLP™ will control app access on smartphones and tablets, essentially telling the applications whether or not they can share information with other applications users are opening. IT admins can specify corporate security policy for "protected apps" such as email, and blacklisted apps that might be outside the firewall, such as a DropBox shared cloud app. Upon breach of policy, the system denies access from the device with a training message to the user that the action is "prohibited by IT policy."
SyncDog will provide hardware-separated authentication through the IntegriCell KeyLime device. KeyLime is a hardware token about the size of a lime wedge that plugs into the standard 3.5mm audio jack available on nearly all mobile devices. Mobile carrier signal and WIFI is established only after KeyLime validates a match between the user's unique ID and the KeyLime token. Once secure communication is established, the user can unplug KeyLime from the audio jack and insert headphones and use the device as normal, and KeyLime will continue to protect the device.
"We don't believe any other infosec vendors in our space are doing anything this significant with application access control," said Jonas Gyllensvaan, SyncDog founder and CEO. "With our multi-factor authentication and SpydrSafe's ability to blacklist any app, we are providing unmatched app security without compromising device functionality."
For more information on KeyLime, please click here to visit the SyncDog website. For more information on SpydrSafe, please click here.
About IntegriCell:
The IntegriCell Group is the parent company of IntegriCell Consulting and SyncDog, Inc. Since 2010, IntegriCell Consulting has established itself as a globally-recognized leader in mobile security for enterprises and governments. Through management consulting and system integration engagements, IntegriCell has delivered solutions that manage the threats and vulnerabilities that exist throughout the mobile ecosystem. Whether the vulnerabilities lie in backend carrier switches, towers, backhaul network infrastructure, handsets or applications, the IntegriCell team has helped their customers solve the most difficult mobile security problems. For more information on IntegriCell, please visit http://integricell.com.
About SpydrSafe®
SpydrSafe Mobile Security has designed the first-of-its-kind Mobile App Control and Security platform that controls how mobile apps access, use and share corporate data on smartphones and tablets. It is the only solution that provides enterprise IT uniform and fine-grained policy control over any mobile app, whether pre-loaded, downloaded from commercial app stores, or developed in-house. SpydrSafe was founded in 2011 by two seasoned professionals with more than 16 years of combined experience in mobile security. More information on SpydrSafe can be found at http://spydrsafe.com/.