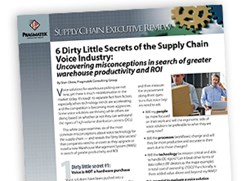 Some voice solutions are thriving while others are diving based on whether or not they can withstand the rigors of high-volume distribution centers.
Minneapolis, MN (PRWEB) September 06, 2013
Before companies upgrade or install a new Warehouse Management System (WMS), they should examine six of the most common misconceptions about voice-picking technology, according to a new white paper available from Pragmatek Consulting Group.
Called "6 Dirty Little Secrets of the Supply Chain Voice Industry," the white paper reveals voice technology trends for high-volume distributions centers. The white paper is available for a free download from the firm's web site at http://www.Pragmatek.com.
Key voice evaluation themes for gaining greater warehouse productivity and ROI are discussed:

the framework of people, process and technology, not hardware alone;
differences between speech-recognition engines;
side-by-side comparison of voice solutions versus RF technology;
connectivity options and integration with workflows;
total cost of ownership considerations;
traditional areas of risk, such as financial viability, software maturity and R&D percentage.
"It's tough to separate fact from fiction, especially when technology trends are accelerating and the competition is becoming more aggressive, " says the white paper's author, Stan Chew, a senior consultant at Pragmatek with 28 years of supply chain execution experience. "Some voice solutions are thriving while others are diving based on whether or not they can withstand the rigors of high-volume distribution centers."
Based in Minneapolis, Pragmatek Consulting Group is a management consulting firm that offers SAP services, supply chain consulting, and enterprise performance management. The firm works with clients to realize significant productivity gains, increased profitability and sustain a competitive advantage. For more information, visit http://www.pragmatek.com
# # #