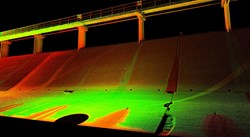 (PRWEB) September 06, 2013
Fenstermaker's Advanced Technologies team will drop anchor in Providence, RI to attend the DAM Safety 2013 Conference spanning September 8 - 12. Hosted by the Association of State Dam Safety Officials (ASDSO), DAM Safety is one of the leading conferences in the U.S. dedicated to dam safety engineering and technology transfer. Ken LaBry, Manager of Fenstermaker's Underwater Acoustic Imaging (UAI) team and Bill Lukasko, Project Manager will represent Fenstermaker at booth 121 and share information regarding the company's highly specialized underwater acoustic imaging services for dam inspection.
The company's UAI team began work on the first comprehensive dam safety evaluation using underwater acoustic technology in 2008. Commissioned by the Louisiana Department of Transportation & Development (DOTD), Fenstermaker inspected and assessed 20 state-operated and maintained dams, with the most notable being the Lake D'Arbonne Dam in North Louisiana. The project generated much attention, and several publications featured the company's UAI system and effective techniques. The International Water Power & Dam Construction printed an extensive review of Fenstermaker's UAI application, with particular attention given to the maintenance of dams, in the piece "Making Sense of Underwater Acoustics" Fenstermaker completed the dam safety evaluation contract with DOTD in 2011.
Perhaps the most compelling case for the success of the evaluation program can be discerned from the 2012 Report Card for Louisiana's Infrastructure. Completed by engineering consultants and professionals in the American Society of Civil Engineers' (ASCE) Louisiana Section, the record indicates that Louisiana dams received significantly higher safety ratings than the nationwide average. This high rating can be attributed to the proactive stance taken by DOTD.
A major component of infrastructure, dams are by nature risky due to the dire consequences and severe safety breaches guaranteed to occur upon malfunction. The Association of State Dam Safety Official's mission is to advance and improve the safety of dams by supporting the dam safety community and state dam safety programs. Their commitment involves raising awareness of dam safety issues, facilitating cooperation, providing a forum for the exchange of information, representing dam safety interests before governments, providing outreach programs, and creating a unified community of dam safety advocates.
*Fenstermaker is a multidisciplinary firm specializing in Survey & Mapping, Engineering, Environmental Consulting, and Advanced Technologies. We have over 300 team members providing professional services through multiple office and field locations across the U.S. Our company mission is to be a vital partner in the success of our clients.