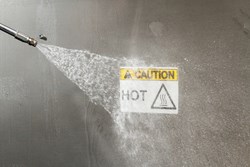 ToughWash™ labels provide a durable, long-lasting solution to keep workers safe, protect their food product and maintain an efficient plant.
Milwaukee, Wis (PRWEB) September 10, 2013
Brady has announced the launch of its new ToughWash™ harsh washdown labels for the food and beverage industry. These labels are engineered to withstand numerous washdown cycles and the hot temperatures, high pressures, caustic chemicals and abrasive scrubbing common to many washdown cycles.
ToughWash labels feature superior print durability and a long-lasting label construction so food and beverage processors can put safety, lean and instructional messaging directly at the point of need. This allows food processors to keep their workers safe and protect their food product, while maintaining an efficient plant. A ToughWash metal-detectable label is also available that has the ability to be detected as foreign debris in the food stream through common metal detectors.
"With the labels used in food and beverage processing today, either the text fades or the label can't withstand the harsh pressure which renders a useless label or a potential food safety hazard," says Danielle Gallo, global product manager for Brady. "ToughWash labels provide a durable, long-lasting solution to keep workers safe, protect their food product and maintain an efficient plant."
ToughWash labels were developed by Brady specifically for the food and beverage market and were tested using real washdown processes. The labels come in a variety of formats to be used with Brady's thermal transfer printers, including the BMP®71 portable printer, BBP®31 Sign and Label Printer, BBP®33 Sign and Label Printer and GlobalMark2® industrial label maker.
Brady also offers a variety of other products for a comprehensive workplace safety program, including ToughStripe® floor marking tape, absorbents and spill containment products, lockout/tagout devices, safety padlocks, signage, pipemarkers and more.
For more information:
Visit http://www.BradyID.com/Food to learn more about ToughWash™ harsh washdown labels or to watch the video demonstration. For Brady's complete product offering, visit BradyID.com. In Canada, visit BradyCanada.ca.
About Brady Corporation:
Brady Corporation (NYSE: BRC) is an international manufacturer and marketer of complete solutions that identify and protect premises, products and people. Its products include high-performance labels and signs, safety devices, printing systems and software, and precision die-cut materials. Founded in 1914, the company has millions of customers in electronics, telecommunications, manufacturing, electrical, construction, education, medical and a variety of other industries. Brady is headquartered in Milwaukee and employs 6,900 people at operations in the Americas, Europe and Asia/Pacific. Brady's fiscal 2012 sales were approximately $1.3 billion. More information about Brady Corporation is available at bradycorp.com.