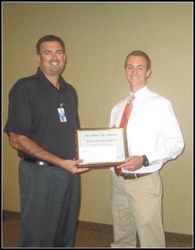 Myrtle Beach, S.C. (PRWEB) September 05, 2013
Brightwater, a luxury retirement community located in Myrtle Beach, S.C., gave away $3,750 in cash prizes to four winners of the community's Silver Pen Essay Contest.
The 2013 Winners were:
Wayne Bauerle, first place
Wayne Bauerle graduated from Socastee High School in Myrtle Beach, S.C., and will be attending Clemson University in the fall to pursue a chemical engineering.
Natalie Bejarano-Dugarte, second place
Bejarano-Dugarte graduated from Socastee High School and will attend Francis Marion College in Florence, S.C., in the fall in hopes of double majoring in psychology and English.
Taylor Roberson, third place
Roberson graduated from Myrtle Beach High School and will attend Clemson University in the fall to pursue a psychology major.
Meghan Lupien, fourth place
Lupien graduated from The Academy of Arts, Science, and Technology and will attend Horry-Georgetown Technical College in the fall to major in dental hygiene.
Brightwater started the Silver Pen Essay Contest this year to help local high school seniors with their collegiate financial burden.
The Silver Pen Essay Contest was open to any high-school senior who lives in a 25-mile radius of Brightwater and plans to graduate in 2013. Incoming entries were screened and delivered to members of the Resident Advisory Council at Brightwater for the formal judging process. This Advisory Council consists of successful retired business professionals, educators and community leaders. Entries were judged based on several criterion including creativity, fluidity of language, and the ability to convey complex feelings in a concise and clear manner.
This year, Brightwater asked students to discuss whether immigration to the United States should be subject to quotas set by Congress for the major countries or by ethnic groups. Senior citizens have witnessed many changes in immigration over the past several decades and many are concerned about the direct impact on Social Security and Medicare.
The Silver Pen will be an annual essay contest with changing topics each year. To read the winners' essays in their entirety or to learn more about The Silver Pen, please visit http://silverpen-slc.com/.
About Brightwater
Located on 60 acres in Myrtle Beach, S.C., Brightwater is an all-inclusive, luxury retirement community surrounded by the Carolina Bay Preserve and the Lewis Ocean Bay Tract, both protected natural areas that will remain undeveloped. The community's care-free lifestyle helps members live longer, healthier and happier lives by offering an array of amenities including maintenance-free living, daily fine dining, weekly housekeeping, a personalized wellness program and continuing-care health services. Brightwater offers a variety of floor plans including single-family cottage homes and condominium-style villas. Assisted-living, skilled-nursing and memory-care residences are also available for those who need to make a transition from independent living. More information about Brightwater is located at http://www.Brightwater-Living.com.