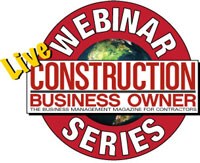 Birmingham, AL (PRWEB) September 05, 2013
Viewpoint Construction Software is pleased to sponsor the webinar, "Strategies & Solutions to Improve Field Productivity," presented by Construction Business Owner, the business management resource for contractors. Attendees can register for the free webinar at https://cc.readytalk.com/r/dpz5415q0f7o&eom.
Learn how the best project managers, supervisors and foremen improve field productivity, maximize crew efficiency, reach their targets, reduce downtime and work as a team to produce more. Whether you are running payroll, tracking equipment usage or reporting on-site productivity, field supervisors need cutting-edge tools to transmit and receive data efficiently. An important aspect of data tracking is how mobile construction solutions can capture labor data, equipment usage and field production to give you an instant real-time picture of how projects are performing and to free personnel from burdensome tasks.
In this webinar, you will learn strategies to:

Track and monitor field crew progress
React quickly to project problems
Implement mobile reporting tools to better analyze construction projects
Lower field job costs and improve crew performance
Avoid duplication of data across departments
About the Speaker
George Hedley is a licensed business coach, professional speaker and author of Get Your Business to Work! and The Business Success Blueprint for Contractors. He works with business owners to build profitable companies. Hedley is a nationally recognized professional business speaker and founder of HardHat Presentations. He also leads an ongoing peer mastermind group, BIZ-GROUP. Email gh(at)hardhatpresentations(dot)com to request your free copy of Winning Ways to Win More Work! or sign up for his free monthly e-newsletter. To hire Hedley, call 800-851-8553 or visit http://www.hardhatpresentations.com.
About Construction Business Owner:
As the leading construction business management resource for contractors and the building industry, Construction Business Owner offers articles from industry experts on the following subjects: construction software, construction accounting, marketing a construction company, green building, construction safety, construction law, workforce solutions, construction insurance, risk management, construction regulations, jobsite security and equipment management.
About Cahaba Media Group:
Founded in 2002, Cahaba Media Group is an independent and entrepreneurially-driven publishing company based in Birmingham, Ala. The company publishes five industry trade magazines (Pumps & Systems, Construction Business Owner, Upstream Pumping Solutions, HomeCare and Senior Care Products), five industry websites, several electronic newsletters and other ancillary products. http://www.cahabamedia.com.