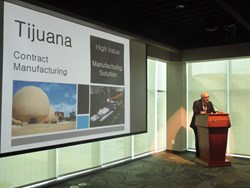 Tijuana, Mexico (PRWEB) September 04, 2013
The program "Tijuana Contract Manufacturing, High Value Manufacturing Solution" was presented to over 70 attendees from government representatives to business leaders and manufacturing services companies from Tijuana. This new program provides a solution to product developers by partnering them with competitive manufacturing capabilities within the NAFTA region.
Businesses that require manufacturing services such as assembly, machining, electronics and other industrial processes now have a closer, more flexible, faster alternative than China. Contract manufacturing companies located in Tijuana, Baja California, Mexico, just minutes from San Diego, California, offer world-class capabilities, experienced, professional and flexible services. They are uniquely positioned to offer fast turn-around, high-mix and low volume production at lower costs than China. In particular to service California and the United States west coast markets.
The Tijuana Contract Manufacturing (CM) platform offers strong capabilities for diverse sectors. In electronics manufacturing, there are more than 100 fully automated assembly lines, where it is possible to do 500 million placements of electronic components in a month. To serve the medical device market there are over 100,000 square feet of certified ISO CLASS 8 clean rooms. Among the specialized services that support the CM sector, there are over 200 injection molding machines with capabilities that range from 50 to 500 tons; and 19 companies with precision machining and other mechanical processes.
Contract manufacturers in Tijuana have developed additional services to integrate a complete manufacturing solution, among these services are: design and product development, prototyping, metrology and testing labs, sourcing and production planning, process design, international logistics, among others. They employ over 21,500 skilled workers that are highly trained, quality focused, and capable to perform from basic manual assembly operations, to highly complex process. Between 8 to 10 percent of total employees work in engineering positions knowledgeable in programs such as six sigma, lean manufacturing, product development and design.
The Tijuana EDC offers companies, free of charge, professional "match-making" services to help them identify the ideal manufacturing partners. They have developed and validated a detailed inventory of local Contract Manufacturing capabilities focused on industrial processes and industry sectors. The new electronic database enables the Staff to pinpoint potential providers within minutes. For more information, contact the Tijuana EDC at rigel(at)tijuanaedc(dot)org or visit their website http://www.tijuanaedc.org.