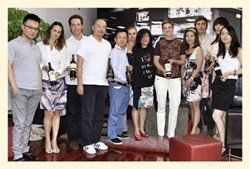 Chinese buyers and importers are key players in China. In order to organize a showcase, rather than yet another tasting event, it is important that they proactively partake in co-branding and co-marketing activities.
Verona, Italy (PRWEB) September 05, 2013
Italian Wines can definitely go head to head with French Wines in many parts of the World, but China is not one of those places on the map. According to recent data from the International Wine and Spirit Research (Source: Wall Street Journal http://tinyurl.com/ndhs6u3), in 2012, imported bottled wine originating from "Dolce Vita" added up to a mere 7% compared with France's 48% market share.
During a four-year hiatus from Mainland China, Vinitaly has been scratching its head to figure out the best way to foster a healthier attitude towards Italian Wine discovery. The Ambassador to Italian Wine kicked off its agenda by organizing a round table with top importers and distributors of Italian Wines in China. In the historical and artistic centre of Tianzifang last Friday, Stevie Kim, Managing Director of Vinitaly International, gathered with the key players of the Chinese wine sector and presented the 2014 March edition of the B2B event in Chengdu and Vinitaly International Academy. Two new strategies for Vinitaly outlined and fine-tuned together with the movers and shakers of Italian Wines in the different Chinese markets emphasized the importance of working together with the importers. A special focus was also put on the educational aspects of training potential buyers.
The most important Italian wine distributors in Beijing, Shanghai, Shenzhen and Guangzhou came together for the first time: Kelit, East Meets West Fine Wines, Gruppo Italiano Vini (GIV), Summergate, Hoonay Wines, Amore Fine Wines, Chu Xiao and Sinodrink. Vinitaly has designed a common goal of expanding Italian Wine culture also with ASC, Torres, Cuvé, West East Corporation and VM Fine Wines who represent hundreds of Italian wine producers.
So, why involve importers in this new project for an 2014 offsite showcase in Chengdu? "Their philosophy and strategic plan must be in line with those of wine producers," explains Stevie Kim, "They are key players in China. In order to organize a showcase, rather than yet another tasting event, it is important that they proactively partake in co-branding and co-marketing activities".
During the event, China-based importers and Italian wine producers will be sharing the exhibiting area. "The space we have at our disposal at Kempinsky Hotel is not very large," says Stevie Kim, "but for the first time in this part of China, and in particular, in the capital of B2B events in the Chinese world of wine, there will be an area entirely dedicated to Italy." Chinese media and buyers alike will have the best guide to Italian Wines.
In addition to the traditional exhibiting area, Vinitaly will launch a new important project, Vinitaly International Academy, in collaboration with the most prominent sommelier and wine educator associations in China.
"The project for the new offsite showcase in Chengdu is very interesting and should be studied in detail," says Summergate, "The Chinese market is expanding and new groups of consumers are emerging. We are experiencing a growing request from Chinese wine lovers for mid-range wine, a market segment in which Italians are very strong." Edward Liu of Sinodrink, Giovanni Zhang of Hoonay Wines and Erina Swart of Kelit share the same opinion. "In the past months there has been a rising interest for Italian wines", concluded Avie Zhang of EMW, "If your Country will speak with one voice during the B2B event in Chengdu, producers will undoubtedly benefit. The mere fact that we are all present here today to share thoughts with Vinitaly shows that we are undoubtedly going in the right direction."
About:
Veronafiere is the leading organizer of trade shows in Italy including Vinitaly (http://www.vinitaly.com), the largest wine event in the world. The 47th edition of Vinitaly counted some 148,000 visitors (+6%), of which 53.000 were international attendees (+10%) visiting from 120 countries. On 95.000 square meters, 4.200 exhibitors welcomed trade professionals, media and producers alike. The next instalment of the fair with take place on 6th-9th April 2014. The premier event to Vinitaly, OperaWine (http://www.OperaWine.it) "Finest Italian Wines: 100 Great Producers" will unite international wine professionals on April 5th 2014 in the heart of Verona. Veronafiere also created Vinitaly International http://www.vinitalytour.com in 1998 to develop a global platform for the promotion of companies in the Italian wine and food sectors.
###