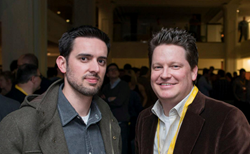 'Attending and taking part in Content Marketing World is one of the key components of the continued growth of DivvyHQ,' - DivvyHQ Co-Founder Brock Stechman
Kansas City, MO (PRWEB) September 05, 2013
DivvyHQ, a cloud-based, content planning and production workflow tool will be on display at Content Marketing World 2013 in Cleveland, Ohio, September 9th-11th. Content Marketing World is the largest content marketing event on the planet, where content marketers learn and network with the best and brightest in the industry. DivvyHQ is naturally aligned with the content marketing industry because it's built to help marketers and content producers get/stay organized and successfully execute demanding, complicated and content-centric marketing initiatives.
DivvyHQ officially launched at the inaugural Content Marketing World in 2011 as the content marketing industry's first comprehensive, spreadsheet-free editorial calendar application. Since its launch at Content Marketing World in 2011, DivvyHQ has rapidly grown with large companies such as TiVo, McDonalds, Sprint, Intel, H&R Block, Nokia, Toyota, Edelman Digital, Adobe and the National Geographic Channel.
DivvyHQ's leadership is very excited about the growth of the company and the future of DivvyHQ. They owe much of the software product's success to Content Marketing World.
"Launching at Content Marketing World 2011 was integral to our early success. We are very excited to be headed back to Cleveland not only as a sponsor, but also to show the content marketing community DivvyHQ's redesigned platform that will be rolled out over the next few months," says DivvyHQ co-founder and content marketing expert Brody Dorland.
Brock Stechman, a veteran of the agency space and co-founder of DivvyHQ believes, "Attending and taking part in Content Marketing World is one of the key components of the continued growth of DivvyHQ. This event allows DivvyHQ to expand our relationships with the community and stay on the forefront as a leader in the always-evolving landscape that is content marketing."
For more information about DivvyHQ and to learn how it can help your company, visit http://www.DivvyHQ.com. For more information about Content Marketing World, visit http://www.ContentMarketingWorld.com.
####
DivvyHQ is a fast-growing company with a targeted focus on building the best tool for big brands, agencies, publishers and media companies who produce high-volumes of content. DivvyHQ's unique functionality combines web-based calendars, content management and online collaboration to help global content teams capture content ideas, assign and schedule content projects, produce any type of content and stay on top of production deadlines.