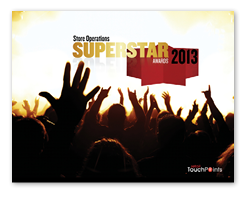 The Store Operations Superstar Awards recognize organizations tackling challenges in a highly competitive environment.
Hasbrouck Heights, NJ (PRWEB) September 05, 2013
Retail TouchPoints, the industry's go-to source for customer engagement strategies, today announced the winners of its second Store Operations Superstar Awards, recognizing 14 companies that have implemented the most innovative, successful store operations strategies in five categories.
"The Store Operations Superstar Awards recognize organizations tackling intense challenges in a highly competitive omnichannel environment," said Debbie Hauss, Editor-in-Chief of Retail TouchPoints. "We doubled the number of awards due to a high increase in nominations, yet another indication that more retailers are intensely focused on improving store operations."
The categories and corresponding winners of the 2013 Store Operations Superstar Awards are as follows:
Workforce Management
Gold: AutoZone
Silver: World Kitchen
Bronze: Home Depot Mexico
Mobile Technology
Gold: Cabela's
Silver: the Container Store
Silver: Lowe's
Bronze: Best Buy Canada
Bronze: Fossil
Loss Prevention
Gold: Harmons Grocery
Silver: PetSmart
Customer Engagement
Gold: BedShed
Silver: La-Z-Boy
Inventory Management
Gold: Saks Fifth Avenue
Silver: the Paper Store
"We are pleased to be presenting awards to a variety of retailers, from smaller to large organizations, and those that hail from different industry segments," Hauss noted. "Winning strategies run the gamut from workforce management optimization to mobile implementations and RFID programs."
For a complete version of the Store Operations Superstar Awards and background on each program, please click here.
About Retail TouchPoints
Retail TouchPoints is an online publishing network for retail executives, with content focused on optimizing the customer experience across all channels. The Retail TouchPoints network is comprised of a weekly newsletter, category-specific blogs, special reports, web seminars, exclusive benchmark research, and a content-rich web site featuring daily news updates and multi-media interviews at http://www.retailtouchpoints.com. The Retail TouchPoints team also interacts with social media communities via Facebook, Twitter and LinkedIn.