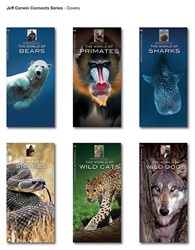 Our mission is to educate and inspire people to explore the natural world and connect the younger generation to the planet and its species.
New York, NY (PRWEB) September 05, 2013
Emmy Award-winning TV host and biologist Jeff Corwin today announced a strategic partnership between JeffCorwinConnect, Inc. and outdoor guide publisher Waterford Press to develop and launch a suite of wildlife and nature-focused products and programs for the education and consumer markets.
"Our mission at JeffCorwinConnect is to educate and inspire people to explore the natural world and connect the younger generation to the planet and its species," Corwin said. "Tools like pocket guides and activity books are an engaging and interactive way for us to help fulfill this mission and teach kids about wildlife and the importance of preserving natural habitats."
For their initial offering, Waterford Press and JeffCorwinConnect take on The World of SHARKS, PRIMATES, WILD CATS, WILD DOGS, SNAKES and BEARS in Jeff Corwin's Explorer Series, a 6-part series of Pocket Naturalist Guides, which are co-authored by Jeff Corwin and James Kavanagh, and will follow up with a series of Nature Activity Books focused on the same species to complement the learning experience.
Jeff Corwin's Explorer Series is a species-focused introduction to the world of wildlife that seamlessly integrates the highlights and need-to-know information about some of the planet's most critical and endangered species.

Pocket Naturalist Guides are lightweight, waterproof, easy-to-digest, and small enough to be read just about anywhere: at home, even on readers' own field adventures.
Nature Activity Books feature wildlife-related games, quizzes and classroom activities
"Simple, straightforward text and compelling visuals make the guides in Jeff Corwin's Explorer Series educational and enjoyable for everyone from children to parents to teachers, to just about anyone with a passion for learning, " says Waterford Press Founder and President James Kavanagh. "The information in these pocket guides lays the foundation for learning and better understanding of these diverse species."
Waterford Press and JeffCorwinConnect embark on a collaboration rooted in science but focused on creating educational, entertaining experiences. Through these experiences, kids will learn about the ecology and biodiversity of life on our planet and be inspired to explore the natural world themselves.
"Strategic partnerships like this give us the tremendous opportunity to further our mission," said Anurag Agarwal, co-founder and CEO of JeffCorwinConnect Inc. "We are excited to partner with Waterford Press to create more and titles and interactive products to support education while having an 'activity based do-it-yourself' experience." Agarwal added that JeffCorwinConnect plans to create digital learning and gaming apps for kids using the same content.
The Pocket Naturalist Guides will be available in November 2013, and Nature Activity Books will be available in January 2014.
About Waterford Press:
Waterford Press produces reference guides to nature, science, travel and languages. The company's 450+ titles have sold over 4.5 million copies worldwide. For more information, please visit http://www.waterfordpress.com.
About JeffCorwinConnect:
JeffCorwinConnect is a wildlife and nature focused, media company that develops branded mobile, digital and consumer products, creating online and onsite experiences, for kids and families. The fuel behind the mission of JeffCorwinConnect is to build a global community of people who care about the future of our planet and seek to better the world for themselves and their children. For more information visit http://www.jeffcorwinconnect.com or email us at contact@jeffcorwinconnect.com