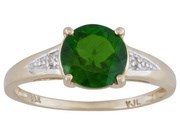 Chrome diopside is the most affordable of the rich, green-colored gemstones.
Knoxville, TN (PRWEB) September 05, 2013
Jewelry Television, one of the largest jewelry and gemstone retailers in the world, is celebrating Pantone's 2013 color of the year – emerald – by offering the hottest new alternative in vibrant green jewelry and gems, chrome diopside. JTV will feature this rare gemstone beauty on Sept. 6 and 7.
"Emerald jewels have always been among the most highly prized treasures on earth," said Kris Kulesza, vice president/general merchandising manager. "Since emerald is 2013's color of the year, we're dedicated to educating consumers about alternative stones with similar lush green hues. Chrome diopside represents a formidable alternative to emeralds at a fraction of the cost."
Mines are found near kimberlite shafts in the mountains of Siberia. Chrome diopside is typically mined from July to August due to permafrost conditions. In addition to its rarity, it has nearly twice the refractive index of emerald, meaning it is highly reflective of light and gives an incredible sparkle.
"Chrome diopside is the most affordable of the rich, green-colored gemstones," Kulesza said. "As an added bonus it is not treated. Unlike other gems, which are routinely heated, irradiated or oiled to heighten color saturation, chrome diopside presents its vivid green color naturally."
JTV offers chrome diopside in a variety of jewelry. Typically paired with sterling silver, additional pieces are available in yellow gold, and can be found in rings, bracelets, necklaces and earrings.
Chrome diopside is an ideal choice for unique fashionable jewelry on-trend with the color of the year. For more information on chrome diopside, visit http://www.jtv.com.
About Jewelry Television®
Jewelry Television® (JTV) is one of the largest multichannel retailers of jewelry and gemstones in the U.S. appealing to fashion-conscious women, jewelry-making enthusiasts and private collectors. The privately-held shopping network broadcasts high definition programming, 24 hours a day, seven days a week, to more than 80 million U.S. households. Committed to consumer education, the network employs numerous Graduate Gemologists and Accredited Jewelry Professionals. JTV.com offers the most comprehensive jewelry and gemstone Learning Library on the internet, and is the third largest jewelry website according to Internet Retailer's Top 500 Guide for 2012.