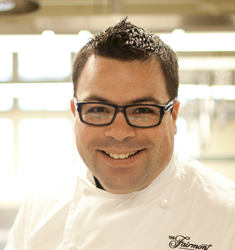 Chance to showcase culinary creations to a wide array of guest excites me.
Montebello, Québec (PRWEB) September 05, 2013
Take a little Quebec French flair, combine it with a passion for good food, then pair it with the desire to be the best and you have the recipe for a great chef by the name of Jean-François Fortin (a.k.a. J.F.), the new Executive Chef at Fairmont Le Château Montebello! It's not only his charming French accent, which gives away his Quebec roots, but also the tantalizing regional products he uses to help define his cuisine and ultimately define who he is as a Chef.
At the ripe age of 18, Chef Fortin took the saying "Go West" literally. He packed his bags and headed to Canmore, Alberta finding work in a small hotel, still wondering what his future would bring. There, Fortin met a Chef who engaged him in learning more about the kitchen. It was an instant revelation for this now 35-year-old Executive Chef: this would be Fortin's new found love. Six months later he returned to Quebec where he signed up for Culinary School at Fierbourg Technical College from which he graduated in June 1998. There was no doubt that the famous Quebec City luxury hotel, Fairmont Le Château Frontenac was where this eager apprentice wanted to learn the tricks of the trade - and learn he did! Fortin worked his way up in the kitchen until he felt that it was time to fly solo and try the restaurant world in Quebec City. He left Fairmont in 2004 to be the Sous-Chef at L'Intimiste, a fine dining restaurant. "Learning the fine dining aspect was an invaluable experience and I learned so much about independent restaurant world, but my heart was truly in the hotel business," says, Fortin.
In 2005, this young ambitious Chef had his sights set on an Executive Chef position within Fairmont and he went after it. Fortin was asked to come back to Fairmont Le Château Frontenac as a Sous-Chef where he stayed for a year before moving onto the Restaurant Chef position at the Fairmont Jasper Park Lodge. After two wonderful years surrounded by the beauty of the mountains, Fortin moved East to take on the position of Executive-Sous Chef at The Fairmont Algonquin in St-Andrews by the Sea.
In less than six months, Fortin was promoted to Executive Chef and the young cook's vision became a reality. With the sale of the Fairmont Algonquin, Chef Fortin knew that he wanted to stay within the Fairmont family. With confidence, ability and his love for the Quebec region, Fortin took a position as Executive Sous-Chef at Fairmont Le Château Montebello after a year in his position; Fortin was once again promoted to an Executive Chef position."If you follow my career path you will see that I am attracted to wonderful resorts that have, not only charm and appeal, but are very food and beverage conscious. The chance to showcase culinary creations to a wide array of guest excites me," comments, Chef Fortin.
In his spare time J.F. spends time with his wife Marie-Pierre and two sons Thomas-Xavier (11) and Felix-Edward (9) "My kids share in my passion. They love to come out and meet new producers with me, taste the local products and learn more about how they are cultivated, it is a family affair," adds, Fortin.
About Fairmont Hotels & Resorts
Fairmont Hotels & Resorts, which arrives in destinations as diverse as Jaipur, Kyiv and Manila in 2012, is a celebrated collection of more than 60 luxury properties around the globe, including Shanghai's Fairmont Peace Hotel, The Plaza in New York, and Makkah Clock Royal Tower in the Kingdom of Saudi Arabia. The luxury brand's distinctive hotels offer a sense of heritage and sophistication, warm, engaging service and culturally rich experiences. A community and environmental leader, Fairmont is also recognized internationally for its responsible tourism practices and award-winning Green Partnership program. Fairmont is owned by FRHI Holdings Limited, a leading global hotel company with over 100 hotels under the Fairmont, Raffles, and Swissôtel brands. The company also manages Fairmont and Raffles branded estates and luxury private residences. For more information or reservations, please call 1-800-441-1414 or visit fairmont.com.
Become a fan of Fairmont. Join our online communities at everyonesanoriginal.com, facebook.com/fairmonthotels, and twitter.com/fairmonthotels. For career opportunities, visit facebook.com/fairmontcareers.