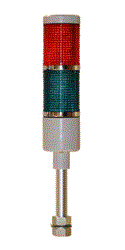 "The LED signal tower lights have really improved our productivity. Problems are attended to immediately with minimal production downtime."
Lake Oswego, OR (PRWEB) September 27, 2013
An Andon system is one of the principal elements of the Jidoka quality-control method pioneered by Toyota as part of the Toyota Production System and is now part of the lean approach. Andon lights referred to as LED Tower Lights will notify management, maintenance, and other workers of a quality or process problem. Creative Safety Supply is now offering LED Tower Lights (Andon lights) that will signal workers to tend to a quality or process change.
LED signal tower lights are available in a variety of color options to distinguish a particular process or change. The lights come in handy because of their relative simplicity, and their ability to be seen from a distance and attract the eye especially in places where noise is high and other signals might not be noticed. Depending on the color that displays, workers can immediately rectify the problem and get the production line moving again resulting in a leaner facility. When problems are identified and corrected as soon as they happen, the outcome is a reduction in downtime and an increase in productivity.
Tower lights are available in red, red-green, red-yellow-green, red-yellow-green-blue, and red-yellow-green-blue-white. Wiring versions of 24V or 120V are available along with easy installation. The replaceable LED bulbs make the tower light conveniently easy for maintenance and upkeep compared to incandescent versions. The stack light casing has a sealant rating of IP 65 (fully protected from dust and low-pressure water). Signal tower lights are available as flashing lights or non-flashing.
A production supervisor commented, "The LED signal tower lights have really improved our productivity. Problems are attended to immediately with minimal production downtime."
For more information about LED Signal Tower Lights (Andon Lights), please contact Creative Safety Supply or call toll-free (866)777-1360 to speak with a professional representative.