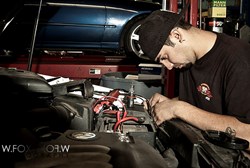 Scottsdale, AZ (PRWEB) September 04, 2013
According to survey results released Aug. 6 by auto research firm Polk, the average age of all light vehicles is 11.4 years. Additionally, the number of vehicles older than 12 years is on the rise.
These statistics bode well for the automotive aftermarket, as independent and franchised operations can expect more visits from both current and new customers.
However, this increased demand for service also means more competition between service providers. Staying ahead of the competition is a necessity for fixed operations to grow their client base and their profits.
This requires a proven marketing plan that not only reaches new prospective customers, but also keeps current clients loyal and entices them to schedule future service appointments.
As more auto service operations are discovering, social media can be a powerful tool for both attracting and retaining customers. It's both an effective outreach and referral tool.
"As more consumers take to social networking sites like Facebook and Twitter to share their opinions about your dealership with their friends, they're also letting their friends' friends and neighbors' neighbors know, too – magnifying the impact of how your dealership is perceived, positively or negatively," said Trey Hiers, The Reynolds & Reynolds Company, in Fixed Ops Magazine.
Providing exceptional customer experiences can instantly resonate through your social media pages, as customers share their experiences with their friends and followers. According to Sprout Social, out of 53 percent of consumers who said they use Twitter to recommend companies or products, 48 percent bought that product or service.
Facebook, Twitter, YouTube, LinkedIn and other social media sites can help service centers, dealerships and franchises stand out from the competition. Here are four ways to best use them to generate sales:
1. Promote discounts.
One of the main reasons people follow a business' social media pages is for coupons. According to Get Satisfaction and Column Five Media, 43.5 percent followed a business' Twitter feed for special offers and discounts.
Give both long-time and new customers a reason to visit and share your social media sites by consistently posting discounts and coupons.
2. Build relationships.
Many customers "like" or "follow" social media sites for the interaction with that business. By responding to posts or messages in a timely fashion, you'll develop sound relationships with customers. And as any business owner can attest to, good relationships turn into sales.
"Until now, we've seen social media being mainly used to enhance the relationship between the brand and the consumer," said Jacqueline Anderson, J.D. Power's director of social media. "What we're starting to see now is that younger consumers are more likely to use social media for service questions than for brand information."
3. Market your referral program.
Customer referrals continue to be a great way to generate new sales. Used in conjunction with social media, a referral program can be a powerful avenue for building a strong and growing client base. Be sure to actively promote referral programs through posts and tweets.
4. Offer online scheduling.
Today's customers prefer the convenience of booking their service appointments online instead of over the phone. Implementing automotive appointment scheduling software on your social media pages can generate instant sales and greater customer satisfaction.
It can also give your business a competitive advantage.
Additionally, some scheduling software providers like Appointment-Plus offer enterprise-level solutions for auto dealerships and franchises with multiple locations, large numbers of staff, and high appointment volume.
Learn how Appointment-Plus enterprise scheduling software can help grow your fixed operations. Call 800-988-0061.
#
About Appointment-Plus: Appointment-Plus is a Scottsdale, Ariz.-based SaaS provider named one of America's fastest growing companies by Inc. Magazine and one of the Phoenix metro area's top software firms by the Phoenix Business Journal. It provides over 16 million people access to their online business management software, which specializes in appointment scheduling for customers, staff and resources.
For media and bloggers: If you're interested in interviewing an executive to learn more about Appointment-Plus, please e-mail us at erichard at appointment-plus dot com. If you're a blogger interested in sharing stories and guest articles, please contact us at the above e-mail.