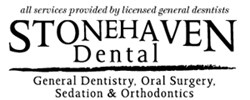 Salt Lake City, Utah (PRWEB) September 05, 2013
Stonehaven works with customers to provide information about the best insurance options.
Stonehaven, specializing in family dental in Salt Lake City, has friendly and knowledgeable staff that will sit down with patients and help them understand their dental insurance benefits so that they can make educated decisions for their family without all the confusion of trying to understand their insurance benefits. Stonehaven Dental bills all traditional insurance plans for you, and they are preferred providers for dozens of companies. They have also introduced their own comprehensive plan that provides affordable treatment to patients without insurance. Whether you need simple preventative care or a major procedure, such as root canals in UT, Stonehaven has the financial options that allow you to get the work done,
Stonehaven assists in providing insurance for residents that don't currently have any.
Stonehaven dentists in Utah offer a comprehensive payment plan; a great opportunity for Salt Lake City families to have quality dental care that is not cost-prohibitive. It includes 100% covered comprehensive exams and x-rays, all for one low yearly single, couple or family fee. Because this is a discount plan, not an insurance plan, there is none of the usual restrictions and headaches associated with many insurance dental plans. With the Stonehaven comprehensive payment plan, there are no yearly maximums, no deductibles, no claim forms, no pre-authorization requirements, no pre-existing condition limitations, and no waiting periods. Stonehaven family dental in Salt Lake City wanted to provide patients a reliable plan they could afford. Whatever procedure a patient is in need of, from crowns to root canals in UT, Stonehaven is proving their dedication to affordable care with this new program.
The Stonehaven Comprehensive Plan covers a wide variety of services.
For dentists in Utah that specialize in preventative care, crowns, implants or root canals in UT, patients are turning to the experience and expertise of the Stonehaven staff. They are highly trained to provide a full range of oral procedures while maintaining customer satisfaction. Stonehaven is committed to ongoing training so they can provide the best care for the patients and their families. If patients are looking for family dental in Salt Lake City that residents trust for major procedures, contact Stonehaven, they keep up with the latest trends and technology, making their services efficient and painless. With their new comprehensive plan, oral care is becoming more obtainable for individuals across the state. For more information about their services, visit their website at http://www.stonehavendental.com.