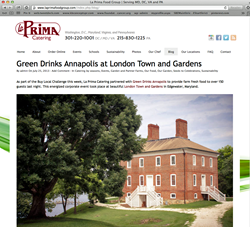 "We are extremely proud of this award, which recognizes our company for doing the right thing by our customers, our team members and our vendor partners, day in and day out."
- La Prima President Dave Evans
College Park, MD (PRWEB) September 05, 2013
La Prima Catering, a full-service company offering corporate and special events catering, has been named a semifinalist in the prestigious 2013 National Capitol Business Ethics Awards.
La Prima was nominated by Capitol Concierge, a business partner for more than 20 years and the winner of the top NCBEA award in 2012. The rigorous application process involved a detailed review of La Prima's business practices and commitment to ethics; lengthy interviews by senior level business ethics students from George Mason University; and a three-hour interview with the NCBEA's judges: Susan Koch, an award winning DC-area HR professional, and Steven Potts, Director of the US Office of Government Ethics under Presidents Bush and Clinton.
"We are extremely proud of this award, which recognizes our company for doing the right thing by our customers, our team members and our vendor partners, day in and day out," said La Prima President Dave Evans. "I could not be prouder of any award we've received, and credit the integrity and commitment of our outstanding employees for this recognition."
La Prima's commitment goes beyond traditional business ethics. The company has devoted extensive efforts to improving its environmental impacts and to providing earth-friendly, sustainable food service. La Prima and its special events division, Catering by Seasons, won the Maryland Green Registry Leadership Award this year, as well as 3-Star Certification by the Green Restaurant Association for its commitment to sustainable practices. La Prima is rated the greenest caterer in the entire DC metro region.
The NCBEA Awards will be presented at a banquet on October 24. The 2013 top winner will be announced from among the semi-finalists at that event.
##
La Prima Catering kitchens operate in five locations throughout the Washington, Baltimore and Philadelphia metro regions, providing unsurpassed service that is fast and flexible. The company's Catering by Seasons division offers a delicious, contemporary menu full of imagination and style for memorable special events such as weddings, corporate galas, religious celebrations and other important occasions. Its "Seeds to Celebration" program provides fresh-from-the-garden, elegant and sustainable events that support local farms and protect the environment. The company's "H Generation" division provides a nutritious school lunch program for area schools.