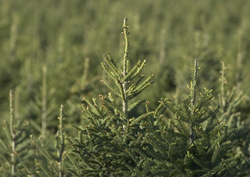 Hartford, MI (PRWEB) September 05, 2013
Michigan Christmas trees, which took a hit during the extreme weather of 2012, are rebounding this year under more favorable climate conditions.
With almost 800 Christmas tree farms in the state, Michigan ranks as the fourth leading producer of Christmas trees in the United States. But as with other major crops in the states such as blueberries, apples and corn, tree farms suffered last year from weather conditions that brought record high temperatures in February, making them more prone to heavy frosts in April. With the added stress brought by near drought conditions through much of the summer, farms across the state were less productive than average.
More favorable weather conditions this year during spring and summer had everyone in agriculture breathing a sigh of relief.
"The difference between the extreme conditions experienced last year and the mild conditions this year is that Michigan Christmas trees will be much healthier," said Joe Heinisch of Hartford. Heinisch is an owner of Christmasfarms.com, and has been a Christmas tree grower for over 25 years.
He explained that 2012's extreme heat and drought conditions put extra stress on the trees. As a result, some trees could not maintain that fresh cut appearance or fragrance as long as they normally would under ideal conditions. Fortunately, Heinisch said, 2013 has provided great growing conditions for Christmas trees, and the buyers of these trees "are in for a great tree."
This year's Christmas tree rebound doesn't affect just families in Michigan. With approximately 75 percent of all trees cut in Michigan being exported outside of the state, the benefits of the favorable Michigan weather will be experienced across the country.