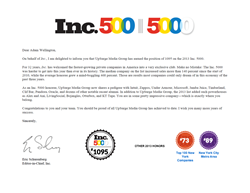 Manhattan, New York (PRWEB) September 25, 2013
UpSurge Media Group was recently named the 73rd fastest growing company in New York State and the 89th fastest growing in the New York City metro area on Inc. Magazine's 32nd annual Inc. 5000. Founded in 2009, UpSurge Media Group, Inc. is a privately-owned global marketing company that places emphasis on tangible results and building long-term trusting and productive relationships with partners, advertisers, affiliates and customers. With headquarters in Manhattan, Upsurge's team of professionals offer internet marketing, search marketing, media buying, branding, data management, coaching center support, and supply chain management. With their concrete foundation in internet marketing expertise, UpSurge Media has been able to distinguish itself among its competition by bringing fix rate targeted high-volume web traffic to partners to enhance their brand and help vastly increase sales.
This prestigious accolade, a celebration of America's most important economic asset—the independent entrepreneur—is a representative sampling of the nation's 5000 fastest growing privately-held companies. Though previous recipients have included everyone from Microsoft and Intuit to Zipcar and Oracle, this year's list (available on newsstands now) was selected from the most competitive crop of candidates in the contest's history.
On average, 2013 companies achieved a staggering minimum of 770% in sales growth within 3 years.
"It's an honor to have been selected for this prestigious award, particularly considering who some of the past winners have been" Wellington says. "This is not only a great honor, but also an inspiration and testament to the fact that anything can happen with enough hard work, even if the path to success is forged with uncertainty."
Like countless other companies started on a shoestring by similarly enterprising young men (Apple, YouTube, Facebook, Pinterest, etc., etc.), UpSurge Media has become a force to be reckoned within affiliate marketing, a multi-billion dollar industry worldwide, where integrity and relationship building are not always in evidence.
As even further proof of UpSurge Media's exponential success, the Company, whose current client roster includes some notable companies also went from $750,000 in gross revenues during its first year of operation to $3.6 million in 2012.