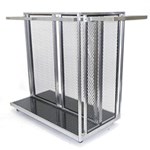 "Retailers need to create a compelling environment for their customers and that is why we believe that the right display is everything."
Des Plaines, IL (PRWEB) September 11, 2013
Specialty Store Services knows that an effective retail store fixture is a proven way to grow business and increase sales. Specialty Store Services delivers quality at competitive prices that exceed customer's expectations. "It is not about putting product on the sales floor and hoping it sells," says Eric Weinstein, the owner of Specialty Store Services, "Retailers need to create a compelling environment for their customers and that is why we believe that the right display is everything."
When choosing a custom store fixture manufacturer, it is important to choose one that is easy to communicate with and listens to goals and objectives and understands the project. The Specialty Store Services team has many years of developing fixtures and is confident that the best solution will be meet to meet the business goals.
The essence of a well-made custom store fixture begins with a great design and engineering. We work with the clients to develop the right product at the right price and to ensure that the Brand of the Store shows through in the design. Specialty Store Services knows that the retail fixtures are effective selling tools.
When working with Specialty Store Services the fixture options are limitless. Specialty Store Services uses both domestic and overseas manufacturing partners to give us the capabilities and resources to ensure the custom fixture is the best price as well as quality and delivered on time.
The Project goals are very important and the consultative process will help determine product specifications, manage manufacturing and delivery and SSS will give updates every step of the way.
Lastly, Logistics and Fulfillment when designing and manufacturing products for new or existing stores, Specialty Store Services has the expertise and support to ensure fixtures are delivered on time, both globally and locally. Specialty Store Services will work to minimize freight costs or warehouse the order until it is needed in the store.
Please visit Specialty Store Services' website or call its knowledgeable sales staff for more information about our Custom Store Fixture services.
Check out Specialty Store Services
Specialty Store Services, a second-generation family owned business, offers everything necessary to operate a thriving retail store, from logistical solutions and retail supplies to custom and stock fixtures. The large inventory of retail supplies and displays available include lighted showcases, shopping bags, pricing and tagging guns, garment racks, mannequins and security systems. Over the last 25 years this service-driven company has cultivated relationships with global partners while developing the expertise and knowledge required to provide competitive prices, outstanding customer service and quality products.