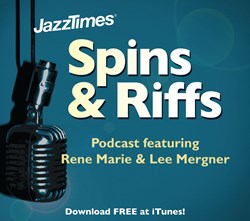 Hosted by Libsyn and distributed on iTunes, the podcast is free and episodes can be downloaded from the iTunes site.
(PRWEB) September 06, 2013
Jazz fans flock to Spins & Riffs.
JazzTimes Podcast Hosts Lee Mergner & Rene Marie Connecting With Listeners
The JazzTimes Spins & Riffs podcast brings a half-hour of music and conversation to jazz and music fans. Created in December 2012, each episode of Spins & Riffs brings JazzTimes publisher Lee Mergner together with his co-host jazz singer René Marie to preview or spin and discuss new music. During the second half of the show Marie and Mergner discuss or riff on an issue, trend or topic of Marie's choice, within and outside the jazz world.
Among topics they've riffed on so far are "S##t I'm Scared to Do," "Guilty Pleasures," "The Grammies," "Interviews (Bad & Good)," "Road Stories," "Instrumental Stereotypes," "Tribute Album Mania" and, yes, "Paula Deen."
Hosted by Libsyn and distributed on iTunes, the podcast is free and episodes can be downloaded from the iTunes site. A new episode is uploaded every Tuesday morning. Mergner and Marie recently recorded their 20th show.
For many years, Mergner has appeared on various radio shows and stations — WDCU, Sirius/XM, Public Radio East and others — doing a sort of Sneak Previews show, in which he previews new releases that will be coming out in the future. Spins & Riffs incorporates that sneak peek element in the first half of each episode, but goes free-form in the second part.
An obsessive fan of NPR shows as well as web-only podcasts like WTF with Marc Maron and The Nerdist, Mergner came up with the concept for Spins & Riffs after hearing the podcast hosted by comedian W. Kamau Bell and musician Vernon Reid — The Field Negro's Guide to Arts & Culture. "I really liked the way that each show felt like a conversation between two people who were passionate and opinionated, coming from different places but with a strong affinity and regard for each other," Mergner says. "I thought it would be interesting to hear a jazz musician's perspective on new music. Too often the media is on one side and the artists on the other. I also wanted a co-host who would feel comfortable talking about any topic, whether about music or politics or social issues. I didn't know René well when we started, but I had a gut feeling that we would make a good team. She's such a gifted artist and very comfortable in her own skin."
A natural raconteur and provocateur, Marie usually comes up with the topic for the Riffs portion of the podcast. "Riffin' with Lee is like talking to a very animated and irreverent encyclopedia," she explains. "He knows these obscure little details about all things jazz. Plus, he's curious as hell about life in general. It's not unusual for us to start a riff on one topic and then morph into another one entirely—just like we would if we were sitting in my living room or at a bar. I once presented a topic that made Lee blush; my new goal is to play devil's advocate on a topic so bogus that it makes him angry. Let the fireworks begin!"
Marie and Mergner plan to add occasional guests to their podcasts. "There are plenty of interview shows out there and although I enjoy them, I wanted to do something different," explains Mergner. "We're now talking about adding a segment in which we talk with a guest about our 'Riff' topic. I think that could be a lot of fun with the right guests."
Each show is sponsored by a company or organization. Among the sponsors during the first 20 episodes are Scullers Jazz, Insight Cuba, Motema Music, Newport Jazz Festival, Berks Jazz Fest and DC Jazz Festival. For information about sponsoring an episode of JazzTimes Spins & Riffs, contact Miene Smith at msmith(at)madavor(dot)com or (617) 706-9092.
Subscribe and download Spins & Riffs at iTunes
For more information, contact:
Lee Mergner
(617) 315-9154
Lmergner(at)jazztimes(dot)com
Jazz Times is published by Madavor Media, which owns enthusiast magazines and web channels across several interest areas, from sports to music to surf fashion and culture. Additional titles include BirdWatching, Foam, Gluten-Free Living, GolfGetaways, International Figure Skating, Volleyball and The Writer. For more information, visit http://www.madavor.com or call 800.437.5828.