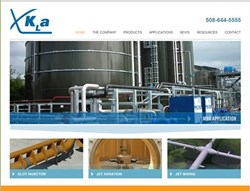 The KLa Difference: Technology, Experience, Knowledge, and Service
Assonet, MA (PRWEB) September 10, 2013 (PRWEB) September 10, 2013
KLa Systems, Inc., leading supplier of innovative Slot Injector ™ aeration systems, jet aeration, and jet mixing systems for industry, water utilities, and municipalities around the world, is excited to announce the launch of its new website.
The past 18 months has consisted of the re-branding of KLa Systems across the board. This included the re-design and roll out of KLa's updated product brochures, in addition to giving the web site, http://www.klasystems.com, a fresh look with updated content.
The new site, launched in July 2013, integrates with all mobile devices, tablets, as well as laptops and desktops. KLa's video library is also linked to its dedicated KLa YouTube channel, http://www.youtube.com/user/KLaSystems, which the KLa Team encourages visitors to visit and watch KLa's aeration and mixing equipment in action.
The entire KLa team is very proud of the final result. Please take the time to visit KLa's new site, view the Applications Gallery, Videos, Case Studies, and News, and view or request KLa's product brochures to learn more about KLa Systems, Inc.
About KLa Systems, Inc.
KLa Systems is a company dedicated to making the world's waterways cleaner, and has the most experienced team of oxygen transfer professionals in the industry. Over the past 30 years KLa has successfully completed more than 1,300 jet aeration/mixing projects in 33 different countries. KLa Systems' mission is the continual development of jet mixing and aeration products, by embracing modern treatment technologies, improving manufacturing efficiency, and reducing KLa System's carbon footprint.
Retrofit Opportunities
KLa Systems, Inc. is in a unique position to assist industries in meeting the challenges of production expansion and/or optimizing energy usage in wastewater treatment facilities.
KLa's Slot Injector ™ system can easily retrofit all types of diffuser systems, including conventional jet aeration systems within existing tanks/basins. Higher (15-60%) oxygen transfer rates can be achieved using the existing compressed air delivery components or the same oxygen demand can be met with less air flow. KLa Systems, Inc. encourages new and existing industry professionals, to let KLa Systems review existing aeration system details, and propose an economical retrofit solution using KLa Systems' technology.