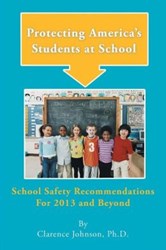 Houston (PRWEB) September 06, 2013
In light of recent instances of school violence like Sandy Hook, it has never been more important to discuss the importance of the safety of America's students in schools.
"Safety of students should be a top priority for all educators and those involved in the education system," said Clarence Johnson. "It is necessary to address the issue of safety for students, even before addressing the complexities involved in educating students."
With 47 years of teaching experience as well as a PhD in educational leadership, Johnson is an expert both in practice and in philosophy of the American education system. Johnson served as the Director of Safe and Secure Schools for the Aldine Independent School District for 11 years, where he successfully taught students, teachers and others the importance of school safety.
In Protecting America's Students at School, Johnson outlines specific safety guidelines and discusses the obstacles that must be overcome in order to accomplish school safety. This book will teach all involved parties how to respond to school emergencies as well as lessen the occurrence of school tragedies.
"Having a consistent, proven safety plan not only ensures the safety of students, but also enhances the overall learning environment for students and teachers alike," said Johnson.
For more information, please visit cjnewbook.com.
Protecting America's Students at School
By Clarence Johnson, PhD
ISBN: 978-1-48173-618-3
Softcover retail price: $14.95
E-book price: $3.99
Available at http://www.amazon.com, ww.bn.com and http://www.authorhouse.com.
About the author
After an extensive career in many positions of the education system, Dr. Clarence Johnson was promoted to Director of Safe and Secure Schools. As Safe and Secure Schools Director for 11 years, he provided leadership that elevated his school district of 60,000 students and 8,000 employees to the #1 rating in fire safety practices in Harris County, Houston, Texas. Johnson retired on November 30, 2011.