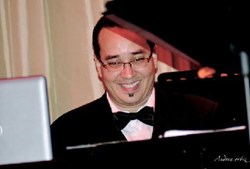 Miami, Florida (PRWEB) September 06, 2013
Wilson Demenezes joins Miami Blues Band as Key Board player and co-leader of the band, announced earlier today by a spokesman for the Miami Blues Band.
Wilson, a musical prodigy, was born in Salvador, Bahia- Brazil. He studied classical piano at the University of Salvador (UFBA).
His 18 years in the music industry have given him the opportunity to perform with the most diverse Brazilian artists in today's hottest music genre.
Playing multiple musical styles, including a very expressive Brazilian Jazz style, Wilson has been living in the United States for over 12 years, currently living and performing in South Florida, where he has acquired a faithful following. He is an essential contributor for the growing Brazilian music vibe in the U.S.
Miami Blues Band is a 14-member big band orchestra; the band covers Sinatra and the 50's greatest hits. The band takes the audience back to a magical time when the music of Sinatra, Dean Martin, Bobby Darin, Gene Kelly, Louis Armstrong and Bing Crosby dominated the charts.