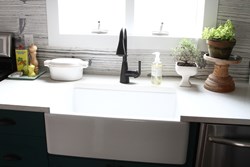 It's wonderful to contribute to the rebuilding efforts of the Breezy Point community, and to watch as the area is restored to its former beauty.
North Olmsted, Ohio (PRWEB) September 05, 2013
Everyone finds comfort in returning home. Whether it's been hours, days or weeks away, coming home provides a sigh of relief and relaxation – especially for those homeowners displaced by the elements. The concept of "Home Again" is the theme for the Country Living 2013 House of the Year project. As a sponsor, Moen Incorporated, the number one faucet brand in North America, helped homeowner Marian Lizzi find peace and return home as editors from Country Living, and designer Emily Henderson, renovated her beach bungalow – utilizing Moen products – in Breezy Point, NY, one of the areas hardest-hit by Hurricane Sandy.
"Like Moen, the team at Country Living realizes the importance of helping those in need," said Beth Wallick, director of advertising and brand, Moen. "Marian's home was flooded with several feet of water after Hurricane Sandy. We're excited that Moen products were used to create a space that provides a fresh start – and includes the latest functionality and style – for Marian."
The house is an 1,000-square-foot beach bungalow in Breezy Point, a neighborhood in the New York City borough of Queens, located on the western end of the Rockaway peninsula. The home features an open concept kitchen, living and dining space. The focal point of the kitchen is the Moen® Ascent™ pulldown faucet in the new Matte Black finish. This dramatic finish creates a streamlined appearance to complement black or stainless kitchen appliances and accessories. The faucet also includes Moen's Reflex system, improving overall hose and sprayer operation for an experience that is truly user friendly.
The home's only bathroom is furnished with the traditional Weymouth™ Collection from Moen. The wallmount faucet makes an impression with its elaborate details and the homeowner will have peace of mind knowing they are using a WaterSense-labeled product featuring a flow-optimized 1.5 gallon per minute (gpm) aerator – offering up to a 32 percent water savings. A matching, nine-inch, multi-function Eco-Performance rainshower is installed in the bathroom, as well. Featuring a reduced flow rate of 2.0 gpm and Moen's Immersion® self-pressurizing technology, the showerhead provides a more powerful experience, while conserving water.
"It's wonderful to contribute to the rebuilding efforts of the Breezy Point community, and to watch as the area is restored to its former beauty," Wallick added. "Moen has long been dedicated to giving to communities in need, and seeing the appreciation and hope that assistance provides."
Follow Moen on Facebook and Twitter for the latest photos and updates of the Country Living 2013 House of the Year. The completed project is featured in the September 2013 issue of Country Living.
To learn more about Moen, visit moen.com.
###
About Moen
As the #1 faucet brand in North America, Moen offers a diverse selection of thoughtfully designed kitchen and bath faucets, showerheads, accessories, bath safety products and kitchen sinks for residential applications – each delivering the best possible combination of meaningful innovation, useful features, on-trend styling and lasting value. In addition, Moen® Commercial offers superior performing products that deliver lower lifetime costs for today's facilities.
Moen has worked diligently to support, promote and advance sustainability within the organization and the plumbing industry. The company has been recognized with the 2011 EPA WaterSense® Excellence Award, as well as the 2010 EPA WaterSense Manufacturer Partner of the Year Award, for its work to protect the future of our nation's water supply through the introduction and ongoing support of water-efficient products, programs and practices, while keeping consumers' needs top-of-mind.
Moen is part of Fortune Brands Home & Security, Inc. (NYSE: FBHS), which creates products and services that help fulfill the dreams of homeowners and help people feel more secure. The company is a leader in the home and security industries and features well-known and trusted brands like Moen® faucets, Master Lock® padlocks and security products, MasterBrand Cabinets®, Therma-Tru® entryway systems and Simonton Windows®. For more information, please visit http://www.fbhs.com. WaterSense is a registered trademark of U.S. Environmental Protection Agency (EPA).
About Country Living
Country Living is a shelter-lifestyle magazine focusing on a variety of topics including decorating, antiques, cooking, travel, remodeling and gardening. In addition to its U.S. flagship, Country Living publishes a United Kingdom edition. Country Living is published by Hearst Magazines, a unit of Hearst Corporation, one of the nation's largest diversified media and information companies with interests in magazines, newspapers, digital media, business media and television. Hearst Magazines is a unit of Hearst Corporation, one of the nation's largest diversified media and information companies. With 20 titles in the U.S., Hearst is the leading publisher of monthly magazines in terms of total paid circulation (ABC 2012) and reaches 82 million adults (Spring 2013 MRI gfk). Follow Country Living on Twitter, Facebook, Pinterest and Instagram.
Contact:
Jennifer Allanson or Kristi Stolarski
Falls Communications
(216) 696-0229
jallanson(at)fallscommunications(dot)com
kstolarski(at)fallscommunications(dot)com