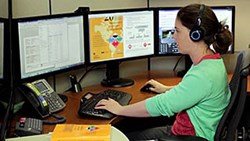 Our $39.95, one-hour course, covers all an employee needs to know to properly prepare HazMat shipping papers.
Novi, Michigan (PRWEB) September 04, 2013
Mastery Technologies is quickly becoming a hub for online training for U.S. Department of Transportation (DOT) HazMat shipping papers policies and procedures. When dealing with hazardous materials, every detail must be thoroughly monitored to ensure safety. Mastery just released an updated, comprehensive and interactive, training course with substantial material at an inexpensive price and unbeatable convenience for the employer and learner. Standards of this training video are taken from the U.S. Government's Code of Federal Regulations 49; and specific responsibilities surrounding the preparation of shipping papers are shown.
Bill Marker, President at Mastery Technologies, says, "By using this training employees don't have to travel to a class (typically costing $300 to $1,000). Our $39.95, one-hour course, covers all an employee needs to know to properly prepare HazMat shipping papers." Bill goes on to promise, "No one else offers the level of comprehension or accuracy offered by this course at this price." Federal regulations require training completion in multiple areas pertaining to workers and suppliers of hazardous materials. Mastery's shipping papers course complies with the function-specific training aspect, all while being at the convenience of the learner through its online, mobile-friendly properties.
The new content partner for Mastery Technologies, Video & Internet Stuff, produced the training course, "DOT: HAZMAT: Preparing Shipping Papers." The course, designed for someone involved with preparing the papers for the transportation of hazardous materials, demonstrates how to properly complete shipping papers, and meet the safety requirements of the DOT.
In completion of this course, evidence of subject mastery includes abilities to:
-Define shipping paper requirements and describe required shipping paper entries for hazardous materials
-Use the hazardous materials table to properly fill in shipping papers
-Identify emergency response information requirements for hazardous materials
When working with HazMat products and/or procedures, it is important to abide by the longstanding rules and standards put in place by industry, Federal government and international bodies. The people dealing with HazMat have the added responsibility to ensure paperwork for each shipment is thorough and accurate. The DOT's Pipeline and Hazardous Materials Safety Administration (PHMSA) offers a "Guide for Preparing Shipping Papers," available on its website. This guide helps organizations avoid common safety violations of the Hazardous Materials Regulations (HMR). Every organization holds specific standards to follow based on the type of materials present in its workplace. Make sure to stay up-to-date on these materials as well as the shipping papers procedures; use Mastery Technologies as a resource to ensure workplace safety.
About Mastery Technologies Inc.
Mastery Technologies established the e-learning industry's first Training Content Network. Mastery partners with leading video content providers to co-produce the largest, standardized, workplace e-learning library available. Mastery goes beyond connecting customers with content, by pro-actively supporting both customers and content partners. In this way Mastery fulfills its mission of helping build more successful, effective and amazing organizations.