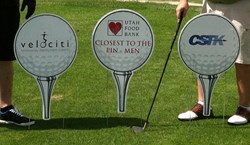 Riverside, MO (PRWEB) September 04, 2013
On August 24th, C.R. England in conjunction with the Utah Food Bank held a golf tournament to raise funds for its "Drive Out Hunger" campaign. Companies came together and pledged to help fight hunger statewide, according to the Utah Food Bank website.
Velociti and sister company CSTK shared an Eagle Sponsorship for a hole at the tournament in support of the cause. Geoff Andrews of Velociti and Allen Lane of CSTK represented both companies during the tournament.
"We work closely with C.R. England, so when they told us about the tournament we were happy to have the opportunity to get involved," said Geoff Andrews, Account Manager with Velociti.
"We believe deeply in giving back to the communities," said Allen Lane, COO of CSTK. "It was a great way to get involved and have fun doing it."
For information on donating to the Utah Food Back, visit their website at http://www.utahfoodbank.org.