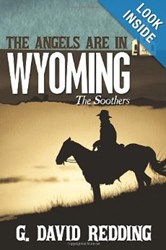 Columbia, S.C (PRWEB) September 06, 2013
What do the Wild Wild West, gunslingers and bar fights have to do with Christianity?
Jack Samson is a bitter gunslinger and outlaw on the run in 1890s Wyoming. After a bank robbery, he escapes to the small, church-centered community known as Grigsby. Introducing himself with gunshots and bar fights, he does not make a good impression on the townspeople.
The town starts to have its influence on Samson, however, and he finds himself questioning his way of life as he meets with the locals, particularly the beautiful widowed innkeeper, Virginia White.
David Redding is a retired minister, who has chosen writing as a way to spread the message of Christ to his readers. The story of Samson will inspire and encourage readers to reach out to others who are searching for God in a loving, compassionate way.
"Happiness is found in the church because of the commonness of basic Christian beliefs, a common interest in the church, and reaching out to those who need it," said Redding.
The Angels Are In Wyoming
By G. David Redding
ISBN: 978-1-61507-189-0
Softcover retail price: $19.95
E-book price: $9.95
About the author
G. David Redding graduated from Georgetown College in 1970 and taught French for ten years before being called into ministry. He then attended Southern Baptist Theological Seminary, graduating in December 1986 and moving to South Carolina the following summer. Since then, he has pastored various churches and served as a chaplain with the South Carolina Department of Mental Health in Columbia, where he lives.