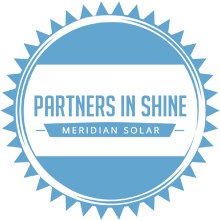 H-E-B continues to demonstrate leadership in corporate sustainability by integrating energy efficient measures and clean solar electricity
Austin, TX (PRWEB) September 10, 2013
The H-E-B at Mueller, located at 1801 E. 51st St. in Austin TX, is serving as the grocery retailer's test store for environmentally sustainable operations. As a long-time proponent of responsible corporate action, H-E-B's newest store features numerous environmental innovations and highly efficient energy components that are being measured and analyzed as the company enhances the customer shopping experience, all while lowering its carbon footprint.
Partners In Shine™, a new web series produced by Meridian Solar, recognizes companies and institutions that actively embrace best practices of conservation and energy efficiency into their daily operations.
Andrew McCalla, President and Founder of Meridian Solar celebrated the innovative retailer: "H-E-B continues to demonstrate leadership in corporate sustainability by integrating energy efficient measures and clean solar electricity into their Austin Mueller retail location. As the second solar project we have developed with H-E-B, we applaud their ongoing effort to incorporate distributed renewable energy into their growth strategy."
Situated in the Mueller Development, a mixed use urban village and sustainable community reclaimed from land previously housing Austin's old airport, the 83,000 square foot retail space introduces several new sustainable design practices, making it one of the most environmentally innovative grocery stores in Texas.
Joe Lopez, Energy Manager at H-E-B, highlighted several major energy efficient components at the new Muller store. "A 169 kW roof mounted solar electric system reduces the amount of power we purchase from the grid and provides a sustainable, long term, low cost source of power." He added, "Unlike many traditional grocery stores, the majority of our freezers and refrigerators are adorned with glass-doors, keeping pre-cooled air inside the coolers, thereby increasing efficiency by 70% per unit." Lopez also discussed the forward-thinking architectural design, "Vertical clear stories provide abundant natural light, and our smart lighting system automatically balances sunlight and LED's providing an optimally efficient lighting mix at all times."
These are just a few of the innovative initiatives incorporated into the test store's infrastructure, and H-E-B expects these practices will become the standard in sustainable, retail facility design. For more detailed information about the many environmental features of the H-E-B at Mueller, visit http://www.greenatheb.com.
About H-E-B: http://www.heb.com
H-E-B, with sales of more than $19.4 billion, operates more than 350 stores in Texas and Mexico. Known for its innovation and community service, H-E-B celebrated its 105th anniversary in 2010. Recognized for its fresh food, quality products, convenient services, and a commitment to environmental responsibility and sustainability, H-E-B strives to provide the best customer experience at everyday low prices. Based in San Antonio, H-E-B employs more than 80,000 Partners and serves millions of customers in more than 150 communities.
About Meridian Solar: http://www.meridiansolar.com
Meridian Solar specializes in the development, engineering, construction, and financing of high quality solar electric projects. Blue-chip commercial clients, State and Federal entities, non-profit organizations, and utility providers repeatedly count on Meridian Solar when considering renewable energy for their facilities. With more than a decade of experience, comprised of hundreds of installations totaling 39 MW of generating capacity, Meridian Solar is truly a seasoned veteran in the burgeoning solar industry.
About Partners In Shine™: http://www.meridiansolar.com/partnersinshine/
Many companies and organizations claim to be proponents of responsible corporate behavior. In reality, only a select few take action and implement sustainable initiatives into their operating fabric. By balancing economic, ecological, and societal issues, these organizations make strategic decisions that not only benefit their bottom line, but also support the long-term health and well-being of their communities. Partners In Shine ™, a new concept web series, recognizes companies and organizations that are leading the charge towards sustainable operations.