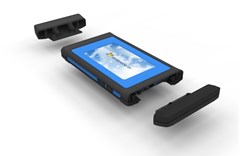 Phoenix (PRWEB) September 05, 2013
Mobelisk has unveiled a flexible, durable, and completely customizable concept for companies looking to implement enterprise tablets within the transportation and logistics industries. The MoGo Chimera™ is a new tablet "smart case" designed to work with virtually any readily-available seven- to eight-inch consumer tablet, transforming it into a rugged mobile enterprise solution with a modular architecture that provides unparalleled flexibility for the transportation and logistics industry.
The Mobelisk solution solves several issues that, until now, have limited widespread tablet adoption within the transportation and logistics industries. The ruggedized Chimera case doubles the battery life of the tablet, allowing it to last through a full day of use – including a long shift in the hyper-busy holiday season – without the need to take it offline for re-charging. In addition, if the tablet needs to maintain its charge for even longer, Mobelisk offers an additional hot swappable "Power Booster Plus" end cap with a removable battery that charges using an inductive charging mat. This will allow the Chimera solution to be in-use for extended periods, even a full 24 hours if necessary.
While the use of tablets in transportation and logistics is not unique, having a ruggedized, customizable solution that allows companies to utilize low-cost "off the shelf" consumer-level tablets, ruggedized within the Chimera case to withstand the shock, moisture and dust rigors that the industry confronts daily, is a game-changer. The MoGo Chimera case features enhanced durability with sealed electronics to meet both Military Standard 810 (MIL-STD-810) as well as Ingress Protection 54 (IP54) standards for enhanced shock, water and dust protection. The smart case also features hardware security, and the device can be locked remotely using an outside software platform.
Additionally, the Mobelisk Chimera offers a number of end cap options which allow the enterprise user to customize the tablet with exactly the functionality needed to expedite their required tasks. The ten end caps available at launch include 1D and 2D barcode scanners, magnetic card readers (read-only and read/write), biometric ID scanners, contactless payment systems such as EMV/NFC (Europay, Mastercard & Visa/Near Field Communication), RFID reader, chip and pin payment systems, and a receipt printer. All MoGo Chimera smart cases are assembled according to the purchasing company's specific design specifications in an Arizona facility. Further, the Chimera case can be customized with colors, logo or design elements that reflect the logistics or transportation company's branding.
Moreover, Mobelisk's Chimera opens up a world of solutions for many of the nagging issues currently facing the transportation and logistics industries, with features such as:
•Full operational control in a mobile solution
•Mobile solution that can be tied completely into the back-end systems either via Wi-Fi or a tablet's 4GLTE Wireless connection."
•The ability to have a card reader, expediting COD and other field-level payments and contactless payment systems such as EMV/NFC (Europay, Mastercard & Visa/Near Field Communication)
•Customizable endcap solutions that include barcode scanning, RFID readers, biometric identification, and several other applications that the transportation and logistics industry would find useful.
The MoGo Chimera will be shipping to customers in the third quarter of 2013. Stay up to date on all things Mobelisk by following us on twitter @MobeliskTech. For more information, visit the website at http://www.mobelisktech.com.
About Mobelisk
Founded in 2012 by senior executives with a broad range of consumer electronics, mobile computing and enterprise solutions experience, Mobelisk is a partner of Verizon Wireless and was tapped to launch their seven inch "blank slate" device for the enterprise market. Realizing that there is no one-size-fits-all solution, Mobelisk has changed their approach to provide robust, flexible tablet solutions for enterprise customers that can be tailored for specific uses through its unique customizable modular platform. With their corporate headquarters in Arizona, Mobelisk is striving to provide a solution designed and manufactured completely in the USA. To learn more about Mobelisk, visit http://www.mobelisktech.com.