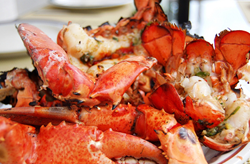 (PRWEB) September 05, 2013
The healthy food movement is in full force as more and more individuals are becoming increasingly aware of what they are consuming. Live Maine lobster delivery service, GetMaineLobster.com, is excited about the opportunity to present healthy lobster recipes and is educating seafood lovers on the health benefits of lobster.
According to the U.S. Department of Agriculture, lobster is a low-calorie meal with only one gram of non-saturated fat and one gram of carbohydrates in a 100-gram serving.
By comparison, lobster contains 98 calories in a 100-gram serving compared to 149 calories in a whole egg and 216 calories in chicken. Lobster also ranks lower in fat and cholesterol content when compared to lean beef, eggs and chicken. Furthermore, lobster packs a punch with 19 grams of protein and high levels of vitamins A, B2, B3, B6 and B12 with sources of potassium, zinc, iron, magnesium and essential amino acids.
According to the American Journal of Clinical Nutrition, the omega-3 fatty acids, low fat content and high protein found in lobster and other seafood may contribute to brain health over one's lifetime.
GetMaineLobster.com wants people throughout the United States to experience the health benefits of lobster, which is why the trusted seafood delivery service is offering a special on live Maine lobsters. For only $159.00, a savings of $180.00, GetMaineLobster.com will deliver 12 one- to 1.25-pound live Maine lobsters fresh from dock to doorstep. Also, try out its new healthy lobster recipe: Get Maine Lobster with Golden Quinoa and Tomato Compote.
To learn more about GetMaineLobster.com, browse its wide range of seafood offerings, and to access other healthy lobster recipes or view current specials, visit GetMaineLobster.com or call (866) 562-4817. Stay updated and Like us on Facebook or follow us on Twitter. For even more lobster news and recipes go to JustAddLobster.com.
About GetMaineLobster.com
GetMaineLobster.com, a division of Black Point Seafood and Black Point Gourmet, hand-selects the finest Maine lobster, seafood and beef products for convenient distribution throughout the United States. Their passion is to make fresh, quality seafood readily available to customers across the country, which is why they buy from only the most trusted, well-established suppliers to ensure that they receive the finest products available.
GetMaineLobster.com was selected out of the more than four million small American businesses served by Chase bank to represent its new Platinum Business Checking product for its 2013 national advertising campaign.