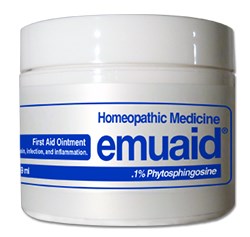 EMUAID® is the one skincare product everyone should own.
Pompano Beach, FL (PRWEB) September 06, 2013
EMUAID®, a scientifically based, modern homeopathic topical ointment, was originally developed to treat severe burns. However, the safety and versatility of the ointment has quickly made the natural treatment a phenomenon for a variety of resistant fungal, bacterial and viral skin conditions. The formula, made up of natural healing ingredients, utilizes a groundbreaking transdermal delivery system and rare growth factor stimulators to treat, heal and soothe multiple skin conditions such as eczema, psoriasis, cold sores, insect bites, poison ivy, blisters, cuts, bruises, burns, and chapped/cracked/damaged skin.
Once beauty insiders got their hands on EMUAID®, the multitasking balm became a cult product with a devout A-list following. They discovered that when used as a deep cleansing face balm, the benefits of EMUAID® seem endless: its all-natural oils gently cleanse, decongest, tone, exfoliate and completely remove makeup without stripping the skin. Also, the natural anti-inflammatory ingredients reduce under eye bags, puffiness and swelling, essential oils, silver citrate and probiotic ferment destroy acne-causing bacteria, impurities and clogged pores and the luxurious rich balm moisturizes, softens wrinkles and leaves your skin radiant.
Described by a leading dermatologist as 'the one skincare product everyone should own', the EMUAID® discovery has changed the skincare landscape. Expertly formulated after decades of research, this all-natural balm contains a signature blend of therapeutic oils, growth factors and skin regenerative agents. It is balanced for all skin types and does not contain any petrochemicals, artificial ingredients, parabens, fragrance, lanolin, alcohol or artificial preservatives.
Available in two sizes: 2oz for $48 and .5oz for $20.