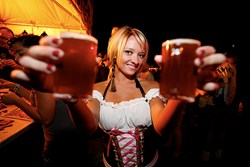 The "Center of the Brewniverse" embraces it's own delibertas quirkas (freedom to be peculiar) during Fremont Oktoberfest.
Fremont, WA (PRWEB) September 04, 2013
The 17th annual Fremont Oktoberfest, taking place September 20-22nd, draws inspiration from the original Munich Oktoberfest, but in true Fremont fashion, puts its own unique "delibertas quirkas" (freedom to be peculiar) twist on the event.
BEER – Tradition: Steins – Fremont: Mini-Mugs
Just as it is in Munich, the main focus of the festival remains beer. Fremont Oktoberfest successfully incorporates the new with the old by showcasing a handful of traditional German festival beers alongside over 100 pre-dominantly local microbrews. And while the majority of the beer is sampled in 5 oz. mini-mugs, you can also choose to prost from das boot (a stein shaped like a boot of course).
FOOD – Tradition: Brats – Fremont: Grilled Cheese
No Oktoberfest would be complete without a fresh bratwurst charred to perfection, and Fremont Oktoberfest is no different, as Zieglers will be serving the traditional favorites. A Fremont option stems from a trendy Northwest favorite, the food truck. The Grilled Cheese Experience will be serving uniquely gooey creations all weekend long.
PAGENTRY – Tradition: German Royalty – Fremont: Buxom Royalty
Playing off the original pageantry of Oktoberfest, Fremont Oktoberfest features a Buxom Royalty Contest in the Buxom Beer Garden. Men and women will compete in traditional (and some untraditional) dirndls and lederhosen in hopes of being crowned Fremont Oktoberfest. Forget Prince Ludwig and Princess Therese of Saxe-Hildburghausen, we have Mr. and Ms. Buxom.
KIDS – Tradition: Clogging – Fremont: Racing
The Fremont Oktoberfest Village pays tribute to Oktoberfest's harvest past. Kids will delight in the racing their Zucchini cars in the Zucchini 500 and watching professionals attack pumpkins will chainsaws in the Texas Chainsaw Pumpkin Carving.
Tickets to the Fremont Oktoberfest Tasting Garden are $20 and up for guests 21 and over. When purchasing tickets, there is a choice to try a variety of different beers in a 5 oz. mini-mug or to head straight to the Buxom Beer Garden to enjoy half-liter or full-liter steins of German beer. Attendees save $10 by purchasing in advance online.
Fremont Oktoberfest is produced by Bold Hat Productions, and is a benefit for the Fremont Chamber of Commerce, funding local schools, art groups, community events, and promoting Fremont as the "Center of the Universe." More information can be found at FremontSeattle.com
Suggested Hashtag: #FOKT13
Suggested Tweet: The "Center of the Brewniverse" embraces it's own delibertas quirkas (freedom to be peculiar) during Fremont Oktoberfest. #FOKT13
View this release and photos online at: fremontoktoberfest.com/press.html