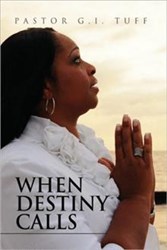 Miami, FL (PRWEB) September 06, 2013
After ministering for more than 20 years, Pastor G.I. Tuff wants to reach a broader spectrum of individuals through her first book, When Destiny Calls.
When Destiny Calls is the story of Pastor Tuff's journey and how she accepted and recovered from life's challenges and trials through wisdom, strength and the words of the Bible.
"This book was written to inspire and encourage anyone, that no matter what obstacles you may face you can overcome," said Pastor Tuff. "God holds the master plans and blueprints to our lives."
Pastor Tuff has each chapter separated by true stories from her life, her understanding of the Bible, and her advice on common issues that affect the stereotypical American, such as divorce, drugs, sex, love and money. She writes about the steps that are needed to accept difficult tribulations and disappointments within one's life and to serve God with passion by turning one's misery into ministry.
"This is not only a 'do not put down till you've read it' book but it is also a 'read again' book," said June Ramsawak, http://www.tuffdestiny.com.
When Destiny Calls is a result of Pastor Tuff's experiences while accepting God plan, and outlines the steps needed to acquire wisdom, strength and courage that guided her to a better life.
For more information, visit http://tuffdestiny.com.
When Destiny Calls
By G.I. Tuff
ISBN: 978-1-4500-8940-1
Retail Price $ 19.99
Available in paperback, hardcover and e-book.
About the author:
Pastor G.I. Tuff is a mother, wife, grandmother, pastor and mentor. Tuff is a Pastor at the Church of Deliverance through the Blood of Jesus Christ, located in Miami. She founded G.I. Tuff Ministries, Inc. and Women of Destiny, which involve strengthening and inspiring families through the word of God.