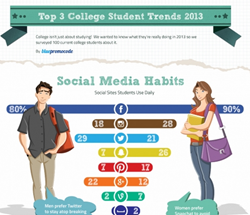 Los Angeles, CA (PRWEB) September 05, 2013
BluePromoCode.com, a leading marketplace for coupons and deals, today releases an infographic on back-to-school trends for 2013. The data was based on a recently published Trend Report which surveyed 100 current college students from around the country.
The highlight of the Trend Report showed major differences in social media usage by gender and that many were trying online dating. The far majority were also using promo codes before buying items online. These trends and more are highlighted in the free infographic now viewable on the BluePromoCode Blog.
About BluePromoCode.com
BluePromoCode, based in Los Angeles, is a leading coupon search engine used by millions of consumers to help them save the most money on their purchases. The website partners with 12,000 retailers to bring over 100,000 coupons to its users with its editors hand-checking coupon codes to ensure the highest quality ones rise to the top. BluePromoCode also offers personalized emails so members can receive the best deals for the brands they love directly in their inbox. BluePromoCode.com is operated by Zipfworks LLC, a leading affiliate commerce company enabling millions of its users to save time and money shopping online through its portfolio of web sites. Learn more at bluepromocode.com.