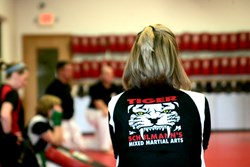 Tiger Schulmann's Mixed Martial Arts teaches authentic kickboxing. Cardio kickboxing facilities only mimic authentic kickboxing. For real self defense, and the health benefits of a kickboxing program, authentic kickboxing is the best choice.
Paramus, New Jersey (PRWEB) September 06, 2013
One of the hottest fitness trends in the United States is cardio kickboxing. Kickboxing classes are known to burn over 800 calories per hour and often top the charts in fitness publications for the fastest way to lose weight and get in shape. In addition to the weight loss benefits, one can add improved strength, flexibility, endurance, and the added bonus of self defense.
The Paramus, New Jersey location of Tiger Schulmann's Mixed Martial Arts is established as a premiere training facility to enjoy the benefits of "authentic" kickboxing. Several athletes trained in Tiger Schulmann's schools compete professionally in kickboxing, grappling and MMA tournaments throughout the region and country, including in the UFC.
"Tiger Schulmann's MMA trains students in 'authentic' kickboxing," says Alon Feder, Director of Marketing. "The most modern and effective kickboxing techniques are studied and taught to our students. To gain the benefits of this sport and to substantially reduce the risk of injury, proper techniques are what we teach. Many of the boutique kickboxing schools only simulate kickboxing. It's not authentic. Improper technique means the students' skills are not as effective and can even lead to injuries," Feder states.
The Paramus, New Jersey location of Tiger Schulmann's MMA web-only offer, providing complimentary kickboxing classes, gloves and $50 savings certificate can be located at this website: paramusmixedmartialarts.com/kickboxing-classes/.