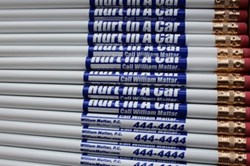 "I believe that even the most basic of school supplies can make a difference in the classroom."

- William Mattar
Buffalo, New York (PRWEB) September 06, 2013
At the Law Offices of William Mattar, the Pencils 4 Schools Campaign is committed to donate thousands of pencils to schools that are in need of additional supplies for the 2013-2014 school year.
William Mattar Law Offices anticipate requests for thousands of pencils for WNY students, many of whom will not have enough supplies in their classroom due to tighter budgets and difficult economic conditions. By donating pencils, the school year will be off to a better start for many young leaders of tomorrow.
Teachers and principals can register for Pencils 4 Schools by phoning the Law Offices of William Mattar at (716) 444-4444. For additional community programs and involvement, visit http://www.WilliamMattar.com.
About William Mattar
Local injury attorney William Mattar is a leader in the community sponsoring numerous organizations. William Mattar is the President of the Village Preservation Foundation, the past President of the Williamsville Business & Professional Association and Amherst Kiwanis Club. In addition to being active in his church, he strongly supports WNY Boy Scouts of America. In 1990, he founded William Mattar Law Offices, representing those injured in motor vehicle accidents across NY State, including the Buffalo, Rochester, Syracuse, Utica and Albany areas. The firm is recognized for not only the thousands of clients they help, but for their phrase "Hurt in a car, call William Mattar" and the phone number you cannot forget 444-4444. For additional information visit http://www.WilliamMattar.com.