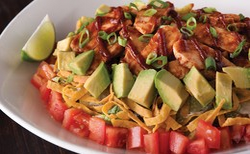 Charlotte, N.C. (PRWEB) September 05, 2013
With only 15 days of summer left, Foodie Call nostalgically reflects on the season with a list of its most popular salads. The local restaurant marketing business and food delivery service gathered data from June 21, the first day of summer, to August 30, 2013, as follows:
#1. Crisp, Build Your Own Salad
Choose from a custom or signature salad drizzled with a house-made dressing and topped with a choice of protein.
#2. Viva Chicken, Quinoa Stuffed Avocado
Creamy avocado halves filled with heaping with spoonfuls of fluffy, organic quinoa, diced cucumbers, and onions. Finished with olive oil and a tangy-sweet balsamic vinaigrette.
#3. Greek Isles, Greek Salad
A local establishment owned by two Greek immigrants, this restaurant knows how to dish out authentic dishes that have been passed down from generation to generation.
#4, and #5. Crisp, Grilled Salmon Salad, BBQ Chicken Salad
The BBQ salad features chipotle marinated, grilled chicken set atop a bed of romaine with roasted corn and red onions, cheddar cheese, and diced tomatoes.
#6. Viva Chicken, Viva Chicken Salad
Serves up 100% natural, free-range chicken that's cooked fresh every 45 minutes. This salad features juicy Peruvian rotisserie chicken with a healthy mixture of cucumber, avocado, and crumbles of feta.
#7. California Pizza Kitchen, Original BBQ Chicken Salad
Most popular CPK salad since 1985 – perhaps because of the signature BBQ sauce or house-made herb ranch dressing… but, most likely, both.
#8. California Pizza Kitchen, Thai Crunch Salad
Forkfuls of salty and crunchy peanuts paired with wontons and rice sticks with a Thai peanut dressing.
#8. Dilworth Neighborhood Grill, (Home of the) Build Your Own Salad
The #1 item on the menu!
#10. Crisp, Steakhouse Salad
Romaine lettuce topped with grilled flank steak, portobello mushrooms, vine-ripened tomatoes, blue cheese, grilled red onion and drizzled with balsamic vinaigrette
#11. Crisp, Cobb Salad
A bed of green leaf lettuce topped with grilled chicken, smoked bacon, blue cheese, chopped egg, cucumbers, vine-ripened tomatoes and topped with Dijon vinaigrette.
#12. Luisa's Pizzeria, Garden Salad
Your simple mixed greens, onions, tomatoes, green peppers and black olives. The perfect accessory to any pizza.
#13. Dragonfly, House Salad with Ginger
#14. Aria, Caprese Salad
Creamy bits of mozzarella complemented by market tomatoes and peppery arugula.
#15. Crisp, Pork Tenderloin Salad
Dijon-encrusted pork tenderloin, roasted red peppers, sliced apple, crumbled blue cheese and toasted walnuts dressed in apple cider vinaigrette on top of a bed of leafy greens.
Foodie Call partners with restaurants in the greater Charlotte area to offer food delivery services. The locally owned Foodie Call provides restaurants with delivery staffing, transportation, licenses and insurance, and more.
About Foodie Call, Inc.
Foodie Call is a multi-restaurant marketing and delivery service providing a delicious variety of Charlotte's best cuisine, beer, and wine to Charlotte metropolitan area residents, workers, and visitors. Foodie Call services Charlotte and the surrounding areas from Ballantyne to Lake Norman. The delivery company brings napkins, utensils, and drinks for a full complement to your meal. For special events, they can provide wine accompanied by gift boxes or items for themed events. For hours and menus, or to place an order, visit http://www.MakeAFoodieCall.com or call Benny, the catering manager, at 704-245-6575.