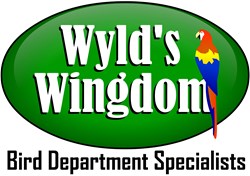 President, Mary Wyld says this about Total Pet Expo, 'Attending this Expo is all about the opportunity to improve your store. Get hands on with the latest new products to keep your bird department fresh and exciting.'
Norfolk, VA (PRWEB) September 06, 2013
For more than 40 years, H.H. Backer Associates Inc. has been at the forefront of the pet industry with its record-breaking trade shows and educational conferences. Backer's pet industry trade shows now have a new name: Total Pet Expo. Wyld's Wingdom, a wholesale pet bird supplies distributor for exotic and pet bird products is excited to be part of Backer's new Pet Store on the Floor as well as an exhibitor at the trade show. They will be at Booth #604 displaying an array of pet bird products which they distribute and to provide knowledge on bird behavior, bird merchandise, and retail sales to the trade show attendees. In addition they will exhibit items in Backer's new Pet Store on the Floor.
Wyld's Wingdom is one of the hundreds of exhibitors presenting their products and services at this trade show. As bird department specialists, Wyld's Wingdom will offer attendees a large variety of bird supplies to purchase at special show pricing. Products available for purchase will include bird toys, bird foods, play gyms and stands for both small and large birds, cage accessories, training aids, educational tools, and more.
With over 25 years of experience and expertise in avian care, Wyld's Wingdom is a one-stop-shopping experience for outfitting your entire pet bird department and will provide the latest information on bird care, safety, and avian wellness.
President, Mary Wyld says this about Total Pet Expo, "Attending this Expo is all about the opportunity to improve your store. Get hands on with the latest new products to keep your bird department fresh and exciting."
Stop by Wyld's Wingdom, Booth #604. For more information about Wyld's Wingdom, visit http://www.wingdom.com.
For additional information on Backer's Total Pet Expo visit http://www.totalpetexpo.com.
About Wyld's Wingdom: Wyld's Wingdom is one of the nation's largest wholesale pet bird supplies distributors. Wyld's Wingdom carries an enormous array of avian products including, bird toys, food, cages, and supplies. We sell to retail stores and offer great values that customers can pass along in their retail setting. Our extensive expertise partnered with a tremendous selection of products, Wyld's Wingdom will provide the best information and advice to our customers on the latest pet bird care, safety, and wellness information. The business, established in 1986, has been built on integrity and service and we provide our customers with the variety, focus, and knowledge needed to make any bird department excel.