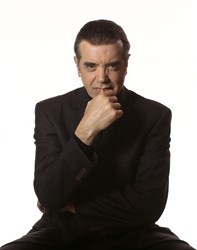 New Brunswick, NJ (PRWEB) September 05, 2013
State Theatre in New Brunswick, NJ has added two performances to the 2013 line-up. The added performances include Chazz Palminteri - A Bronx Tale on Fri., December 13, 2013 at 8 p.m. and a second show added for comedian Brian Regan on Sat., December 14, 2013 at 9:30 p.m. Tickets for both shows go on sale to the general public on Friday, September 6 at 10 a.m.
Chazz Palminter - A Bronx Tale
Fri., December 13, 2013 at 8 p.m.
A Bronx Tale is a classic coming of age story brought to life with the original, autobiographical, one man show. Written and performed by Academy Award® nominee Chazz Palminteri, A Bronx Tale tells the story of a young boy from a working class family who witnesses a murder and is introduced to the world of organized crime.
After premiering in Los Angeles in 1990, the show moved to New York City for a critically and commercially successful off-Broadway run. The stage production was subsequently adapted into an acclaimed motion picture as Robert De Niro's directorial debut. After the film's worldwide success Palminteri brought the show back to New York for a Broadway run with four-time Tony® Award-winner Jerry Zaks as director.
Tickets: $35-75
Brian Regan
Sat., December 14, 2013 at 7 p.m. and 9:30 p.m.
Critics and peers agree, Brian Regan has distinguished himself as one of the premier comedians in the country. The perfect balance of sophisticated writing, physicality, and family-friendly stand-up, Regan fills theaters nationwide with fervent fans that span generations. Co-presented by the State Theatre and Live Nation.
Tickets: $39.50-49.50
For tickets or more information, call the State Theatre ticket office at 732-246-SHOW (7469), or visit us online at http://www.StateTheatreNJ.org. The State Theatre ticket office, located at 15 Livingston Ave., New Brunswick, NJ, is open Monday, Tuesday, Thursday, Friday, 10 a.m. to 6 p.m.; Wednesday 11 a.m. to 7 p.m.; Saturday, 1 p.m.-5 p.m.; and at least three hours prior to curtain on performance dates, unless otherwise specified. For information on group outings and discounts, call 732-247-7200, ext. 517. Some additional ticket and transaction fees may apply.
State Theatre, a premier nonprofit venue for the performing arts and entertainment. The theater exists to enrich people's lives, contribute to a vital urban environment, and build future audiences by presenting the finest performing artists and entertainers and fostering lifetime appreciation for the performing arts through education. The State Theatre's programs are made possible, in part, by funding from the New Jersey State Council on the Arts/Department of State, a Partner Agency of the National Endowment for the Arts, and contributions from numerous corporations, foundations, and individuals. The Heldrich is the official hotel of the State Theatre. Magic 98.3 is the official radio station of the State Theatre. The Star-Ledger is the official newspaper of the State Theatre. United is the official airline of the State Theatre.
State Theatre
15 Livingston Ave.
New Brunswick, NJ 08901
Ticket Office - 732-246-SHOW (7469)
Online - http://www.StateTheatreNJ.org
Photos and interviews furnished upon request.
Please contact Kelly Blithe at 732-247-7200, ext. 542 or by email at kblithe(at)StateTheatreNJ(dot)org.
Up-to-the-minute information on events and State Theatre news, online at http://www.StateTheatreNJ.org.