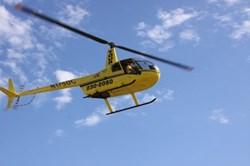 We were delighted with the beautiful views as well as the smooth ride.
Destin, FL (PRWEB) September 05, 2013
Beach helicopter tours are the newest attraction in Destin, FL, and TripShock.com is now offering discounted online bookings. Tour participants can save up to $10 on Destin Helicopter Beach Tours when they purchase tickets through the online travel agency. (Children two to five years old fly for half price, while children under two fly free with two paying adults.)
Flyers can choose from six beach helicopter tours that range from 5 to 38 miles of pristine coastal views. While it is impossible to guarantee marine wildlife sightings, they are common on this tour. Passengers may wear noise reduction headsets with microphones to communicate during the flight. Experienced helicopter pilots maintain the aircraft to the highest standards.
TripShock.com users rated Destin Helicopter Beach Tours with 4.5 of 5 stars. The online travel agency verified and published these three recent TripShock Traveler Reviews to give new customers an idea of what to expect during the tour.
"Long story short, the helicopter ride is worth every penny! I did the intro tour (5 mins) and it was definitely enough to get the adrenaline flowing! Beautiful views, competent and fun pilot, feeling like you're flying, and OH THE SHARKS AND DOLPHINS! Very very cool, lots of fun, don't miss it!"
"This was a great ride. We did the "shark run" which lasted about 15 minutes. We wish we had done the ultimate package with longer time riding. I strongly suggest it. The pilot was very nice and informative."
"We were delighted with the beautiful views as well as the smooth ride. This was our first helicopter ride but we plan to be repeat riders whenever we get the chance. Mike, the pilot, made the whole experience most enjoyable. Thanks!"
Visit http://www.TripShock.com to reserve a Destin Helicopter Beach Tour today.