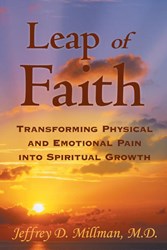 Make sense of difficulties through combining scientific knowledge with a metaphysical exploration
Sparks, Nevada (PRWEB) September 06, 2013
Combining science and spirituality can be a difficult undertaking, especially for a medical doctor. However, Jeffrey D. Millman, M.D. explores the power behind a holistic and spiritual approach to health in his book, Leap of Faith: Transforming Physical and Emotional Pain Into Spiritual Growth.
Prompted by his own personal experiences to search for the meaning of life, Dr. Millman explains how pain is the key to growth and, by transforming physical and emotional pain, people can gain insights that will enhance their happiness and wellbeing.
Leap of Faith features not only Dr. Millman's personal stories, but also those of his patients to help readers overcome fears about health, aging and death. The book discusses specific illnesses and various emotional and spiritual issues with a focus on the lessons each one offers.
"As a medical doctor, I see so much pain, suffering and emotional struggles everyday," said Dr. Millman. "I have tried to make sense of these difficulties through combining my scientific knowledge with a metaphysical exploration of the challenges of being a human being."
With his extensive background in medicine and spirituality, Dr. Millman has dedicated his life to human wellness through his holistic approach to healing. Leap of Faith encourages readers to use their inner wisdom to navigate life's many challenges.
For more information, please visit jeffreymillmanmd.com.
Leap of Faith: Transforming Physical and Emotional Pain into Spiritual Growth
By: Jeffrey D. Millman, M.D.
Hardcover: $33.95
Paperback: $14.99
E-Book: $3.99
ISBN: 9781452547077
Available at bookstore.balboapress.com, amazon.com and barnesandnoble.com.
About the author
Jeffrey D. Millman, M.D. is a family physician in private practice near Reno, Nevada, and is a clinical professor at the University of Nevada School of Medicine. In addition to his over 40 years of experience in medicine, he has spoken at a variety of conferences and events on both spiritual and scientific topics. Dr. Millman lives in the foothills of the Sierra Nevadas.
# # #