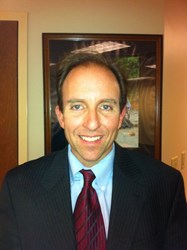 He has mentored several employees and positively shaped their careers. Steve is going to do a phenomenal job growing FFG's Raleigh Regional Sales Center.
Raleigh, North Carolina (PRWEB) September 05, 2013
Foundation Financial Group announced the promotion of Stephen Le Gost to Regional General Manager. Le Gost will manage all divisions at FFG's Raleigh Regional Sales Center, located at 701 Exposition Place #202.
"We are extremely confident that Steve will excel as a Regional General Manager because he gives 110 percent," said James Brodsky, chief human resources officer. "He has mentored several employees and positively shaped their careers. Steve is going to do a phenomenal job growing FFG's Raleigh Regional Sales Center."
When Le Gost began working at Foundation Financial Group, he brought two decades of mortgage lending experience with him. His industry expertise secured him a spot in FFG's management program, and his determination to succeed has quickly accelerated his career. The delight he describes feeling every time someone in his center earns a promotion or salary increase illustrates the leadership style Le Gost brings to each new role within the financial services corporation.
"The best part about my new position is the opportunity to work with our recently promoted executives and help them grow into their new roles," said Le Gost, whose psychology degree has helped him manage employees. "Career advancement is the clearest sign that our faith, hard work, and talents have paid off. I have always believed in removing obstacles and providing support wherever I am needed. I do my best to learn different ways to teach these ideals to my managers so they can help their business units succeed."
Foundation Financial Group acknowledges exceptional work and top performers in each position through corporate awards. The company's prestigious Cornerstone Award honors excellence in sales leadership and management. Le Gost's managerial talents have been recognized with four Cornerstones.
Le Gost holds a black belt in Taekwondo and practices various martial arts and boxing with Haidee, his "wonderful and tough" wife. He enjoys golfing and running in charity events like the Susan G. Komen Race for the Cure. Le Gost believes in volunteering to make his community a better place and supports the SPCA and Humane Society.
About Foundation Financial Group
Foundation Financial Group is a multibillion dollar financial services corporation. FFG offers its customers Best in Class service through its Insurance, Retirement, and Mortgage Services. Named one of the fastest growing financial companies in the country by INC magazine for the third year running, FFG has continued to grow its nationwide presence with over 100,000 new customers per year in 39 states. In addition to the value that Foundation Financial provides every customer, it is also dedicated to its communities and the people who live in them. Through a vast array of philanthropic endeavors, the company not only provides significant monetary donations but also fosters a workforce environment that encourages all team members to personally make a difference. Foundation Financial is committed to its strong focus on customer service and community investment as it continues to grow and compete with the largest financial institutions in the world.
Foundation Financial Group reviews all public relations inquiries. For additional information, interview and image requests, contact the Foundation Financial Group Public Relations Team.