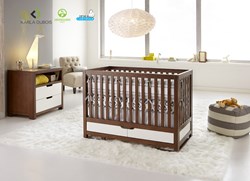 The safety of children and protecting the environment has always been guiding principles at Karla Dubois.
Los Angeles, California (PRWEB) September 05, 2013
GREENGUARD's Gold certification helps consumers find manufacturers that actually meet the rigorous standards of sustainability and low-toxicity through independent, third-party testing. All certified products must pass stringent chemical emissions requirements, such as a screening of more than 10,000 volatile organic compounds (VOCs) that can create hazardous indoor pollution.
With over 30 years of experience in the baby and juvenile furniture, Karla Dubois was founded with the guiding principles of Safety, Style and Sustainability. Their intuitively designed furnishings blend together beauty and security with eco-friendly modern living. Today, the company is proud with this safety and GREENGUARD gold certified baby crib certification, which verifies their commitment to safe and ecologically sound products.
"We're so excited with this new announcement. It recognizes our genuine commitment for a safer and greener planet paired with great design," said Karla Dubois. "We believe the GREENGUARD Gold standards are what parents want because we are parents too."
GREENGUARD Gold's scientific method uses dynamic environmental chambers testing as guided by the US Environmental Protection Agency's (USEPA) testing protocol for furniture, the state of Washington's protocol for interior furnishings and construction materials, Germany's Blue Angel Program, California's Department of Public Health Services (CDPH) Standard Practice for Specification Section 01350 and the ISO 16000 environmental testing series. Actual product use is reconstructed inside the dynamic environmental chambers, and particle and chemical emissions are measured at specific intervals during strict testing protocols.
Now that Karla Dubois is verified, their GREENGUARD Gold certified modern baby cribs will add points to established eco-friendly baby nursery building programs, satisfy code or ordinance criteria or meet indoor air quality specific RFP requirements.
A true testament to good design, all of Karla Dubois's eco-friendly baby furniture actually grows with your child. Baby cribs easily transform into toddler beds, and dressers are multifunctional, all the while maintaining a beautiful aesthetic style parents and children deserve.
The Safety of children and protecting the environment has always been guiding principles at Karla Dubois. Along with its seal from JPMA (Juvenile Products Manufacturer's Association), its new GREENGUARD Gold Certification is setting a high standard of excellence that parents demand.
Karla Dubois believes that their mission is essential in creating a better world for your children and theirs. The company repeatedly demonstrates the right solution for the modern baby nursery, which expresses individual style without compromising safety and the planet for generations to come.
For more information, please contact Karla Dubois Relations at care(at)karladubois(dot)com.
Visit us at http://www.karladubois.com.
Follow us on Facebook: https://www.facebook.com/KarlaDuboisLiving.