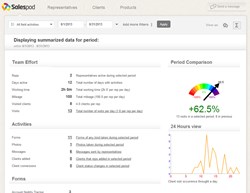 Salespod has added tools to measure and assess Key Performance Indicators for Field Sales, Field Marketing and Retail Merchandising Organizations.
Boston, MA (PRWEB) September 05, 2013
Salespod, Inc., the maker of the field sales and retail merchandising automation tool Salespod, reported today that it has expanded its offering to provide several new features for managing Key Performance Indicators (KPIs) around the execution of field activity by outside sales, marketing and retail merchandising reps. "We typically provide enhancement releases at least once a month to make sure that the product continues to provide new value to our customers," said Matthew Brogie, Salespod's GM for North America. Brogie added, "Over the past few releases we have been adding new capabilities to help managers measure and manage their field operations."
Salespod's Field Activity Management solution is used to drive market penetration, retail execution, promotion compliance and product distribution, while giving managers real time access to data collected by their reps, including time and map-based location data for all field activities. Salespod's Field Activity KPI tools allow managers to see performance of their entire team, or individual reps over any time period. The tools include activity monitors and statistics summaries, in additional to the ability to quickly rank the team across a range of measurements. "These tools are just the beginning of a product roadmap focused on KPI and analytics," said Brogie. These new features build on an already powerful system that leverages consumer grade smartphones and tablets and a web enabled back-end to enable 'Zero IT' implementations.
Salespod is used in many industries to drive visibility, efficiency and accountability into Outside Sales, Merchandising and Marketing organizations. The cloud based solution is changing the way that companies manage their mobile workforce by leveraging mobile technologies to greatly streamline how information moves between the field and the back office. Known as an Agile Field Activity Manager, Salespod drives efficiency in the mobile workforce by providing high value functionality on smartphones and tablets, including:

tracking the geo location of field teams and their activities,
managing customer information,
gathering data using custom forms and surveys,
collecting orders,
capturing photos and,
conducting price checks.
About Salespod:
Salespod specializes in developing mobile software solutions for enhancing sales processes for the FMCG (fast moving consumer goods) industry, the pharmaceutical industry and the cosmetic industry. Since their founding in 2008, the vision has been to offer the most comprehensive and convenient mobile solutions on the market for sales and mobile management. Coined the "swiss army knife for your mobile workforce", the software is used by L'Oreal, Lavazza, Keune Haircosmetics, Julius Meinl, Jaegermeister and many others. Salespod's solution is poised to change the way field sales teams communicate, collaborate, and conduct business. This is a fundamental shift occurring in outside sales and merchandising. Gone will be the days of clunky CRM systems. For more information or a free trial, go to http://www.salespod.net. For industry news and reports, visit the Salespod blog at http://www.salespod.net/blog/all-news/ or Twitter.com/salespod.