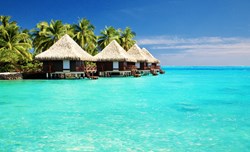 More than just two of the most romantic destinations on Earth, they are two of the most authentic as well.
Glendale, California (PRWEB) September 05, 2013
Against stiff competition from the Caribbean and South Pacific, the islands of the Indian Ocean are offering all the luxuries, beauty and culture of their more famous counterparts – plus some unique surprises. Mauritius and the Maldives have cultures utterly unique among the world's island nations. More than just two of the most romantic destinations on Earth, they are two of the most authentic as well.
Arab, Portuguese, Dutch, French and British influences have all played a part in Mauritius' colorful history. This shows in every aspect of the island's culture, particularly its cuisine. Between delicious meals, enjoy countless opportunities for fishing, kayaking, hiking across beautiful unspoiled mountain terrain, or meeting the vast variety of local wildlife (Go easy on the Dodo jokes. Mauritians are proud of their extinct national mascot). The snorkeling and scuba-diving along the reef also ranks among the best in the world.
The Maldives inspire images of luxury bungalows stretched over sparkling blue waters, with miles of flawless white beach just a short walk away. And this can certainly match reality. Being made up of nearly 1,200 coral islands, the Maldives are also an exceptional spot for diving or snorkeling holiday. Share the waters with manta rays, sharks, over 200 varieties of coral and over 1,000 species of fish before relaxing to watch the sunset.
Right now, Goway Travel is thrilled to offer exceptional value on 10-day escapes to these two unforgettable destinations, including international return flights with Emirates, all taxes, seven nights accommodation with daily breakfast and resort transfers.
10-Day Mauritius Escape starts at US$2599 from New York and CA$2799 from Toronto. Mauritius Escape also includes nightly dinner.
10-Day Maldives Escape starts at US$3259 from New York and CA$3479 from Toronto.
Since 1970, Goway has been providing unforgettable travel experiences to Africa, Asia, Australia and New Zealand, idyllic island destinations and Latin America. Today Goway is recognized as one of North America's leading travel companies for individuals, families and groups to select exotic destinations around the globe. Goway has offices in Los Angeles, Vancouver, Toronto, and Sydney (Australia).
For reservations and information, visit http://www.goway.com, call your Travel Professional or 1-800-387-8850.